Egypt court suspends April parliamentary elections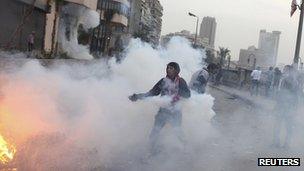 A court in Egypt has suspended the parliamentary elections which had been scheduled to begin next month.
The Cairo Administrative Court said the electoral law promulgated by President Mohammed Morsi needed to be reviewed by the Supreme Constitutional Court.
Mr Morsi said he respected the ruling and that an appeal was unlikely.
He had announced last month that the elections for the People's Assembly would take place in four stages over two months, starting on 22 April.
The main opposition coalition, the National Salvation Front (NSF), subsequently said it would boycott the polls because the electoral law favoured the president's Islamist allies - a claim the president denied.
The NSF also expressed concern that the elections would be neither free nor fair.
They were called by the president only weeks after more than 70 people were killed in clashes between security forces and opposition supporters at protests held across the country to mark the second anniversary of the revolution which removed Hosni Mubarak.
On Wednesday, the security chief in Port Said was dismissed following renewed clashes between demonstrators and police. The coastal city has seen repeated outbreaks of violence since January, when death sentences were handed down to 39 people arrested after a riot at its football stadium last year which left more than 70 people dead.
'Respect for constitution'
The administrative court said it had ordered the elections to be suspended because the Islamist-dominated upper house of parliament, the Shura Council, had not returned the electoral law to the Supreme Constitutional Court for final review after amending it in February.
Instead, the court said, the Shura Council had sent the law to Mr Morsi for ratification.
Mr Morsi's legal adviser initially said the presidency would appeal, but it later issued a statement saying it respected the court's decision.
"The Presidency respects Administrative Court ruling to suspend Lower House Elections & refer Elections Law back to the Constitutional Court," it wrote on Twitter in English.
Another tweet said: "The Presidency reaffirms its respect for the Constitution, Rule of Law and Separation of Powers."
Mr Morsi's opponents said the ruling was further proof that the president and his Muslim Brotherhood were mismanaging the country and seeking a monopoly on power.
"The mess continues courtesy of epic failure of governance,'' NSF leader Mohamed ElBaradei wrote on Twitter in English.
"Ignorance and manipulation of the essence of the state of law are the characteristics of a fascistic state. The president continues to speak about legitimacy," he added in Arabic.
The elections have been called because Egyptians voted in December in favour of a controversial new constitution, which requires that the process begins within two months. The last polls saw the Muslim Brotherhood's political wing, the Freedom and Justice Party (FJP), win 43% of the seats in the People's Assembly and 59% of the seats in the Shura Council.