Kenya election: Behind the headlines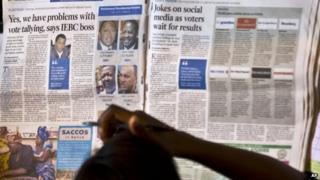 Kenyans are still awaiting the results of their much anticipated presidential election, after technical glitches delayed both the voting process and the count.
This is the first national poll since the disputed contest of December 2007 that triggered weeks of bloodshed.
The poll was held under a new constitution designed to prevent a repeat of the violence.
As the results trickle out, here are a few nuggets of news which you may have missed:
The new president is taking a salary cut
Just before the polls, the newly set up Salaries and Remuneration Commission announced that President Mwai Kibaki's successor would be earning $14,465 (£9,592) a month, down from a monthly income of $23,331 (£15,494).
MPs, much criticised for voting themselves massive pay rises in the past, will also be getting less - $6,257 a month - a cut of about $3,700. Under the new constitution, politicians' salaries and allowances are taxable at a rate of 30%.
Obama defeated
Malik Obama, 54, ran for governor as an independent candidate in western county of Siaya.
A half-brother to Barack Obama, they share the same Kenyan father, he told AP news agency he leant towards the US president's 2008 campaign slogan "Change" - eradicating poverty, developing infrastructure and industrialisation.
But the hotelier turned politician, who has eight likes on his Facebook page and ran a poorly funded campaign, failed to win.
Marathon man elected
Long distance runner Wesley Korir, who won the Boston Marathon last year as well the Los Angeles Marathon in two consecutive years, has won a seat as an independent member of parliament for Cherangany in the Rift Valley.
"I haven't actively retired from athletics; I'm running the Boston Marathon in April to defend my title," he told the BBC Swahili Service. But instead of doing two marathons a year, he says he is going to focus more on half marathons and one major marathon.
"I won't be doing as many marathons as I've been doing in the past, but I'll be able to get in the training I need because the parliament here in Kenya opens at 11 o'clock, so I have from 6 to 11 o'clock to able to train… eat and [then] go to work as a member of parliament."
Teen makes history
Nineteen-year-old Kibiwott Munge made Kenyan history by winning a seat in one of the newly established county assemblies.
A candidate for the United Republican Party, led by William Ruto, in the Rift Valley's rural Baringo county, he becomes the youngest Kenyan to clinch a political seat in an election.
In his acceptance speech, he said his success was a victory for young people and also thanked his parents. "I also thank my friend Njoroge who lent me his motorbike to campaign," Kenya's Daily Nation quotes him as saying.
He told the BBC that the politicians he most admired were Mr Ruto and US President Barack Obama.
Warring Maasai brothers
The Sunkuli brothers are vying for the same senatorial seat in Narok county where the Maasai community make up the majority of voters.
Julius Sunkuli resigned as Kenya's ambassador to China to run on Uhuru Kenyatta's The National Alliance ticket. Andrew Sunkuli, a shrewd businessman, has run as an independent.
Kenya's Citizen news website has reported that the siblings both lodged complaints at the electoral commission about Monday's vote after early results showed a lead for a third candidate.
Kibaki still controversial
For the first since independence in 1963, the name of Mwai Kibaki - the outgoing president - did not appear on any ballot paper.
He did however take time to campaign against the female candidate who went on to win his parliamentary seat in Nyeri - Mary Wambui - even though she was standing for The National Alliance, whose leader, Uhuru Kenyatta, Mr Kibaki supported in the presidential vote.
Ms Wambui, a prominent businesswoman, had previously claimed to have been married to Mr Kibaki, prompting an angry reaction from his wife, Lucy, and a denial from the president.
Ms Wambui won the party primary and then a legal challenge from the party hierarchy in order to stand.
She will be joined in the national assembly by at least 47 female MPs. Under the new constitution, voters in each of the newly created counties are choosing a women's representative to sit alongside the 290 constituency MPs.
The old ways are best?
The much-hyped multi-million dollar biometric voter registration system failed in many places on Monday, with polling stations having to resort to using the paper voters' roll.
The next evening the computerised counting system crashed, and the Independent Electoral and Boundaries Commission (IBEC) then ordered returning officers to bring in person paper copies of their constituency's tallies to the counting centre in the capital.
IEBC head Issak Hassan has said that a software bug led to the number of rejected votes being multiplied by a factor of eight - an issue which led to huge rows and allegations of fraud.
Making fun of foreign journalists
Some Kenyan journalists and observers have enjoyed poking fun at the large numbers of foreign reporters who have gone to cover the elections, accusing them of unoriginal writing and only being interested in a repeat of the 2007-8 violence.
"Kenya was braced at the crossroads on Saturday amidst growing concern that the demand for cliches is outstripping supply," wrote Elkim Namlo in Kenya's Daily Nation newspaper ahead of the vote.
This article and a controversial report by CNN about some Kenyans allegedly arming themselves went viral in Kenya.