Tunisia PM Ali Larayedh unveils new government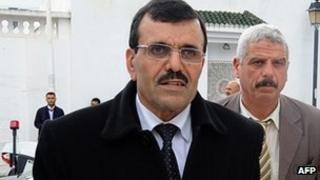 Tunisian Prime Minister-designate Ali Larayedh says he has presented the line-up of a new coalition government to President Moncef Marzouki.
The new cabinet will be led by the Islamist Ennahda party, backed by two secular parties and some independents.
Ennahda has ceded control of key ministries, including foreign affairs, defence and the interior.
Tunisia has been in turmoil since the killing of opposition leader Chokri Belaid on 6 February.
The assassination provoked mass protests and resignations from Tunisia's coalition government.
Failure
The new line-up will remain in place until an election due to be held before the end of the year, Mr Larayedh said.
The centre-left Ettakatol and the secular Congress for the Republic led by President Moncef Marzouki - the same parties that formed the previous cabinet - remain in the coalition.
Technocrats have taken several important positions, with diplomat Othman Jerandi named as foreign minister, Lotfi Ben Jeddou as interior minister and Rachid Sabbagh as defence minister.
The agreement was reached after "marathon negotiations", Mr Larayedh said earlier.
He was tasked with forming a new government on 22 February and had until midnight on Friday to meet a constitutional deadline for doing so.
The BBC's Jim Muir in Tunis says the announcement of the new government marked another failure, as the three main secular opposition groups which took part in intensive negotiations over the past two weeks all pulled out.
This left leaving Ennahda back where it started - with two small coalition partners and a slight majority in the constituent assembly.
In a post on its Facebook page, Ennahda said its members only made up 28% of Mr Larayedh's government, down from 40% in the previous coalition. Independents formed 48% of the new cabinet, the party said.
Former PM Hamadi Jebali resigned after being unable to form the neutral technocratic administration he believed was necessary after the death of Mr Belaid.
Chokri Belaid was shot dead outside his home in the capital, Tunis.
His death was the first political assassination in Tunisia since the Arab Spring uprising in 2011.
Four people have been arrested on suspicion of involvement in the killing.