Central African Republic Seleka rebels seize Bangassou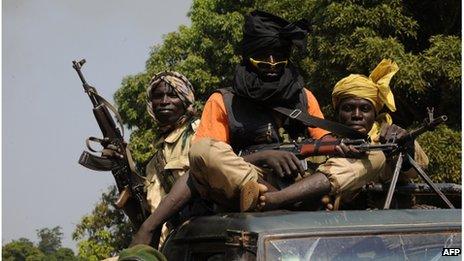 Rebels in the Central African Republic (CAR) have captured the key south-eastern town of Bangassou, a government minister has said.
The attack took place despite the fact that the Seleka rebels signed a peace accord with the government in January.
The army withdrew, putting up little resistance as the rebels advanced, reports say.
The rebels have repeatedly accused President Francois Bozize of failing to honour the peace deal.
They accuse him of undermining the power-sharing government formed in terms of the accord by running a parallel administration, and not fulfilling promises made to rebel fighters.
Under the deal, senior Seleka leader Michel Djotodia became the defence minister, but he is currently out of the country, reports say.
Communication Minister Cristoph Gazam-Mbeti, who is also a Seleka official, confirmed that fighters had seized Bangassou, which is more than 600km (372 miles) from the capital, Bangui, and close to the border with the Democratic Republic of Congo.
He declined to comment further.
The rebels say they are demanding the release of political prisoners and the withdrawal of South African troops which were deployed last year to prevent a rebel advance on Bangui.
Communication lines to Bangassou have been cut, making it difficult to establish what is happening in the town.
However, there are reports that the rebels have blocked the main road linking Bangassou to Bangui.
Earlier this month, Seleka fighters also attacked the northern town of Sido.
CAR has been hit by a series of rebellions since independence from France in 1960.
It is one of the poorest countries in Africa, despite its considerable mineral resources.