Malawi minister Goodall Gondwe resigns over treason charge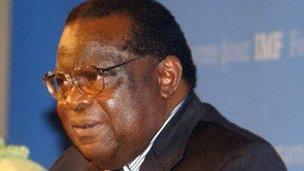 Malawi's Economic Planning Minister Goodall Gondwe has resigned two days after being charged with treason, along with 11 other top officials.
They are accused of plotting to prevent then Vice-President Joyce Banda from taking over after the death of President Bingu wa Mutharika.
Mr Gondwe, a former IMF vice-president, was credited with transforming Malawi's economy between 2004 and 2009.
Despite being an ally of Mr Mutharika, he was retained by President Banda.
Although Ms Banda was elected as Mr Mutharika's running mate, the pair fell out long before he died after it became apparent that he wanted his brother, Peter, to succeed him.
After the president died following a heart attack last April, Peter Mutharika is alleged to have asked the army to take power.
Reports of the president's death were not confirmed for more than a day, leading to widespread anxiety and fears of a power vacuum.
Mr Gondwe was arrested on Monday but later collapsed in a police cell and was taken to hospital.
He confirmed his resignation in an interview with the BBC from a private clinic.
"I have resigned from cabinet today for obvious reasons," Mr Gondwe told the Reuters news agency.
"I can't continue to serve in cabinet when I am facing charges."
The 12 people charged with treason have not yet been asked to file a plea in court.
Related Internet Links
The BBC is not responsible for the content of external sites.