South Africa's ANC sacks Jacob Zuma critics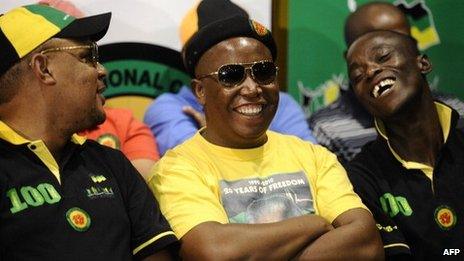 South Africa's ruling African National Congress has fired the leadership of its youth league after it opposed Jacob Zuma's re-election last year.
ANC Secretary General Gwede Mantashe accused the youth leaders of showing continued ill-discipline and bringing the party into disrepute.
The Limpopo provincial leadership was also sacked - it was the first to call for Mr Zuma's removal as party leader.
Despite the mass sackings, Mr Mantashe denied the party was in turmoil.
He also rejected charges that the party was carrying out a purge of Mr Zuma's critics.
At the party conference in Mangaung in December 2012, Mr Zuma won by an overwhelming majority.
This means he is likely to remain South Africa's president until 2019.
Both the youth league and Limpopo provincial leadership were seen as close to firebrand politician Julius Malema, who was expelled from the party last year.
He had been a close ally of Mr Zuma but the pair then fell out.
The youth league has been a historically important part of the ANC where Nelson Mandela, Oliver Tambo and Walter Sisulu cut their teeth and Mr Mantashe stressed that it remained a vital component of the party.
"We can't be casual about the youth league. They are the future of the ANC. This is what informed us to break and rebuild it and the interim team must take their time," he said.
In December last year Mr Malema wrote a letter to the ANC asking for his job back, but he was told it was too late.
Before his re-election last year, Mr Zuma was accused of not doing enough to tackle corruption and high levels of youth unemployment.
His leadership style also came under fire following the Marikana tragedy in which police killed 34 mineworkers during protests over wages last August.
Related Internet Links
The BBC is not responsible for the content of external sites.