Zimbabwe approves new constitution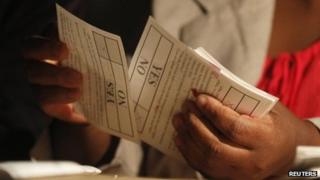 Zimbabwe's new constitution was approved by an overwhelming majority in Saturday's referendum, the electoral commission has said.
The document, which will limit future presidents to two five-year terms, was backed by more than three million votes - nearly 95% of those who voted.
It was supported by the countries' two main political parties who have been in a power-sharing government since 2009.
The constitution's approval paves the way for elections later in the year.
Meanwhile, US-based campaign group Human Rights Watch has said the government should end a police crackdown on civil society groups in the run-up to elections.
Spoilt ballots
The clause limiting presidential terms will not apply retrospectively, so Zanu-PF's 89-year-old leader, President Robert Mugabe, will be able to stand again in elections expected in July.
He will again face the Movement for Democratic (MDC) change leader Morgan Tsvangirai, 61, who is currently serving as prime minister in the coalition.
The two agreed to share power after disputed polls in 2008 which were marred by violence.
A new constitution was one of the key elements of the power-sharing deal.
Official results show 3,079,966 voted "Yes", 179,489 voted "No", with 56,627 recorded spoilt ballots.
The turnout in Saturday's referendum, at slightly more than half the six million eligible voters, was higher than many analysts had expected, Reuters news agency reports.
During campaigning the MDC focused on clauses guaranteeing protection against violence, and free and fair voting.
The Zanu-PF campaign highlighted the irreversibility of the land reform programme, which saw some 4,500 farms seized from mainly white commercial farmers.
'Police harassment'
Human Rights Watch's comments come after the weekend arrest of prominent human rights lawyer Beatrice Mtetwa as she attempted to offer legal assistance to four MDC officials charged with impersonating police officers.
Ms Mtetwa remains in custody despite a court order to release her and faces a charge of obstructing justice.
She appeared briefly in court on Tuesday and is expected to apply for bail on Wednesday.
"The government needs to stop this police abuse of power and hold those responsible to account," Human Rights Watch's Tiseke Kasambala said in a statement.
"Zimbabwe's authorities cannot expect to create a rights-respecting environment ahead of elections in the context of repression, harassment, and intimidation of civil society activists."
The campaign group gave examples of the crackdown going back to December when the authorities began to confiscate shortwave radios they believe to have been illegally donated by Western organisations.
Many people in rural areas get most of their news from radio, which is dominated by the state broadcaster, although several stations based abroad broadcast to Zimbabwe on shortwave and medium wave.