Gaddafi cousin Ahmed Gaddaf al-Dam arrested in Egypt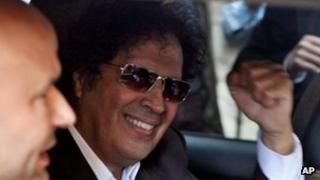 Egyptian police have arrested a close aide and cousin of the late Libyan leader, Col Muammar Gaddafi.
Ahmed Gaddaf al-Dam was Tripoli's special envoy to Cairo for many years and left Libya for Egypt shortly after the 2011 uprising against Col Gaddafi.
Egypt's prosecutor general has ordered Mr Gaddaf al-Dam's detention for 30 days while charges against him are investigated.
He gave himself up to Egyptian police after his home in Cairo was surrounded.
Mr Gaddaf al-Dam is one of several high-profile Libyan figures residing in Egypt who have been pursued by Libyan authorities and the international police body Interpol since the end of the war.
'Documents forged'
Libya's deputy attorney general Taha Baara confirmed the arrest, saying Libya had presented the Egyptian prosecutor general with the case against Mr Gaddaf al-Dam some time ago, says the BBC's Rana Jawad in the Libyan capital Tripoli.
Taha Baara added that the preliminary charge, as presented to Interpol, was the forging of official documents.
Libyan authorities have indicated that there are other charges as well, our correspondent adds.
An interior ministry source in Cairo told the BBC that Mr Gaddaf al-Dam handed himself in to the security forces after 10 vehicles surrounded his house in the Zamalek neighbourhood of the Egyptian capital.
Earlier reports said there was an exchange of fire before he surrendered. Mr Gaddaf al-Dam told foreign media outlets that his guards had clashed with the Egyptian forces as they were unsure of their identity. It is unclear if anyone was injured.
Pictures then showed a smiling Mr Gaddaf al-Dam in a car, waving to the camera as he left the home.
Mr Gaddaf al-Dam played down the arrest, saying he was going voluntarily to Cairo's prosecutor general with his lawyers "to file a complaint".
Sarkozy visit
Mr Gaddaf al-Dam was a leading figure under Col Gaddafi, our correspondent says.
After arriving in Egypt in 2011, Mr Gaddaf al-Dam initially claimed he had defected, but took a more neutral stance weeks later, fuelling suspicion in Libya that he was still working for Col Gaddafi - an accusation he has denied in the past.
Libya has asked Egypt to hand over dozens of Libyans affiliated with the Gaddafi regime.
The arrest comes on the second anniversary of the start of an international air campaign, led by France, in Libya that helped rebels in their fight against Col Gaddafi. Three days later, Nato officially took over military operations.
Former French President Nicolas Sarkozy, who championed the intervention, has been in Tripoli for the day, meeting Libyan Prime Minister Ali Zeidan.
Mr Zeidan thanked the Egyptian authorities for their "judicial co-operation" over Mr Gaddaf al-Dam.