Bosco Ntaganda: US wants swift ICC transfer from Rwanda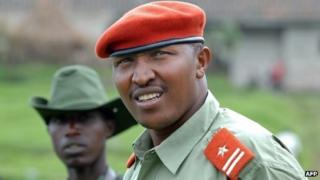 The US is working for a swift transfer of a Congolese war crimes suspect from its embassy in Rwanda to the International Criminal Court (ICC), a senior US official for Africa has said.
Johnnie Carson said that Kigali is co-operating and would not interfere with the transfer of Bosco Ntaganda.
He surrendered on Monday after seven years on the run.
Known as the "Terminator", he denies committing war crimes in the Democratic Republic of Congo.
Neither the United States nor Rwanda recognise the ICC.
However Mr Carson - the US assistant secretary of state for African affairs - said there had been talks to organise the transfer to The Hague "as quickly as possible", Reuters news agency reports.
Mr Carson said it was important that Gen Ntaganda's movement from the embassy to the airport was "in no way be inhibited", the Associated Press news agency quotes him as saying in a briefing to journalists in Kigali by video link from Washington.
He said he hoped that ICC officials, who were en route to Rwanda, would be allowed into the country.
"The timeline is uncertain but the need for rapid and quick action is clear," Mr Carson said, the AFP news agency reports.
He added that Gen Ntaganda was being held incommunicado at the US embassy and had no access to communication devices, the BBC's Prudent Nsengiyumva reports from Kigali.
Gen Ntaganda faces 10 counts of conscripting child soldiers, murder, terrorising communities and using rape as a weapon of war.
The charges relate to his time as the leader of a militia in the north-eastern DR Congo between 2002 and 2003. He was since fought for other rebel groups and as well as the Congolese army.
Most recently he was believed to be one of the leaders of the M23 rebel group, which is fighting government troops in the east of the country.
The DR Congo government said Gen Ntaganda, who comes from the Tutsi ethnic group, crossed into Rwanda on Saturday with the help of Rwanda forces after he and some of his followers were apparently defeated by a rival faction of the M23 group.
The UN says the M23 group is backed by the governments of neighbouring Rwanda and Uganda, which they both deny.