Mali soldier killed in Timbuktu suicide bomb attack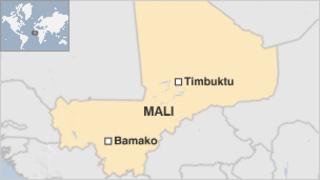 A suicide attack has killed a Malian soldier in the historic city of Timbuktu, the army says.
The attacker set off an explosive belt inside a car which had been stopped at a checkpoint near the airport, a military source said.
This is the first suicide attack in Timbuktu since French-led forces ousted Islamist militants from the city in January.
The French army says it also killed at least 10 militants in a later attack.
The French government says it is still trying to verify claims by al-Qaeda in the Islamic Maghreb (AQIM) that it had executed French hostage Philippe Verdon on 10 March, in retaliation for France's intervention in Mali.
France sent troops in January to regain the north from a loose coalition of militant Islamist groups, saying they threatened to turn the whole of Mali into a "terrorist state".
"A booby-trapped car exploded during the night [Wednesday] near the Timbuktu airport," a military source told the AFP news agency.
"The jihadist who set off his belt was killed instantly and one of the soldiers injured in the explosion died in hospital."
The BBC's Alex Duval Smith in Mali's capital, Bamako, says the attack is a setback to French claims that it is winning the war against jihadist forces in Mali.
On Wednesday President Francois Hollande said the military operation was in its last phase and that Mali was ''days away'' from regaining its territorial integrity.
However, thousands of ordinary Malians have remained sceptical about assurances that the north of the country is safe, our correspondent says.
The Timbuktu car bombing is likely to vindicate their view and further delay the return of civil servants who are needed if schools, town halls and clinics are to reopen, she says.
'Mopping up'
Malian army spokesman Capt Samba Coulibaly said the suicide bombing took place at a road block manned by Malian soldiers, just before a French checkpoint, Reuters news agency reports.
"We are mopping up to see if there are any other attackers in the area," he is quoted as saying.
French army spokesman Colonel Thierry Burkhard said French and Malian forces had repelled an attempt by militants to infiltrate Timbuktu's airport on Thursday morning, Reuters reports.
There were no French casualties, he added.
France currently has 4,000 troops in Mali, backed by thousands of Malian, Chadian and other African forces.
Their military campaign has focused in recent weeks on the remote Ifoghas mountains near the Algeria border, where the militants are believed to have fled after losing control of the main cities.
However, there were two suicide bombings in the city of Gao last month.
On Tuesday the French army said 15 Islamist fighters had been killed in recent days in Gao, and a large cache of weapons seized.
At least 26 Chadian and five French soldiers had died in combat in Mali since their deployment, AFP reports.
France hopes to begin withdrawing its forces from Mali at the end of April.