DR Congo's Bosco Ntaganda in ICC custody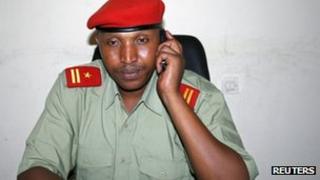 Congolese war crimes suspect Bosco Ntaganda has arrived in The Hague from Rwanda and is in the custody of the International Criminal Court.
Gen Ntaganda, a key figure in the conflict in eastern DR Congo, surrendered to the US embassy in Kigali on Monday.
The ICC has charged him with 10 counts of war crimes and crimes against humanity, which Gen Ntaganda denies.
His first appearance before judges is scheduled for next Tuesday.
At the hearing before a pre-trial chamber, he will be informed of the charges against him - and dates for future appearances will be set.
Gen Ntaganda is the first suspect to surrender himself voluntarily to the ICC's custody.
"This is a good day for victims in the DRC and for international justice," ICC chief prosecutor Fatou Bensouda told the BBC's Focus on Africa programme
"Today those who have long suffered at the hands of Bosco Ntaganda can look forward to the prospects of justice taking its course."
Known as "The Terminator", Gen Ntaganda has fought for a number of rebel groups as well as the Congolese army.
Most recently, he was believed to be one of the leaders of the M23 rebel movement, which has been fighting government troops in the east.
He is accused of seven counts of war crimes and three counts of crimes against humanity allegedly committed in Ituri, DR Congo, between 2002-2003. The charges include enlisting child soldiers, murder, rape and sexual slavery.
The DR Congo government has said that Gen Ntaganda, who comes from the Tutsi ethnic group, crossed into Rwanda on Saturday after he and some of his followers were defeated by a rival faction of the M23 group.
Eastern DR Congo has long suffered from high levels of violence linked to ethnic rivalries and competition for the control of mineral resources.
A statement from the ICC thanked the US, Rwanda and DR Congo for helping secure the transfer of Gen Ntaganda to The Hague.
But it also urged urged them to "renew and refocus their efforts" to secure the arrests of other suspects who remain at large, including Democratic Forces for the Liberation of Rwanda (FDLR) commander Sylvestre Mudacumura, and the top commanders of the Lord's Resistance Army.