Sudan frees Abdul Aziz Khalid and other political prisoners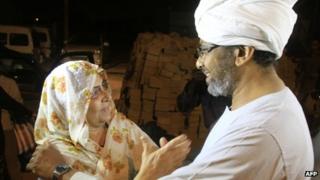 Seven political prisoners have been freed in Sudan a day after President Omar al-Bashir ordered the release of all political detainees.
Relatives embraced the prisoners as they walked out of a prison in the capital, Khartoum.
They included Abdul Aziz Khalid, who was arrested in January after backing an initiative to oust the government.
On Monday, Mr Bashir said he wanted a "national dialogue" with all groups so that differences could be resolved.
Rights groups accuse Mr Bashir, who took power in a coup in 1989, of leading one of the most repressive regimes in Africa.
'Regime change'
Mr Khalid had attended a meeting in neighbouring Uganda in January of Sudanese opposition parties and rebel groups, where a charter was adopted calling for the overthrow of the government through peaceful or violent means.
After his return to Sudan he was arrested, along with the six other opposition activists who have now been freed.
The six men were released from Khartoum's Kober prison, while one female prisoner, Enstar Alagali, was freed from a different location.
One of the liberated prisoners, Youssif al-Koda, who heads the Islamic Centrist Party, told AFP news agency that he was ready for dialogue with the government if it was serious.
"I didn't do anything against the constitution," he is quoted as saying.
The opposition meeting in Uganda triggered diplomatic tensions between the Sudanese and Ugandan governments.
Sudan accused Uganda of endorsing regime change in Khartoum.
Uganda denied the charge, saying it was a free country where people could meet to discuss issues.
Last month, Mr Bashir said he would step down at the next election in 2015 because Sudan needed "fresh blood".
Mr Bashir is wanted by the International Criminal Court (ICC) on charges of genocide, related to the decade-long conflict in Darfur.
The Sudanese government is also fighting rebels along its border with South Sudan, while in Khartoum it is accused of holding on to power by detaining and torturing opposition activists campaigning for peaceful change.
In a speech to parliament on Monday, Mr Bashir said all political prisoners would be freed to create an "atmosphere for freedoms".
"We confirm we will continue our communication with all political and social powers without excluding anyone, including those who are armed, for a national dialogue which will bring a solution to all the issues," the president said.
Correspondents say it is unclear who was covered by the declaration and whether it included all the several hundred opposition and rebel detainees believed to be in jail.
At least 118 members of the rebel Sudan People's Liberation Movement-North (SPLM-N) are being held by the security forces in the South Kordofan region alone and more are being held in other areas, AFP quotes a local rights group as saying.