Madonna row over Malawi 'schools'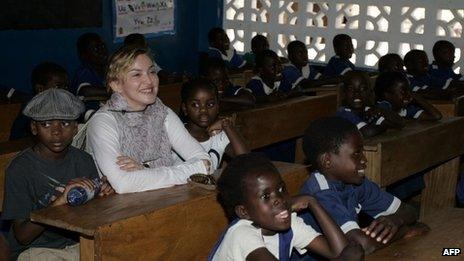 Malawi's education minister has told the BBC that the pop star Madonna is building classrooms not entire schools in the southern African country.
Eunice Kazembe made the comments as the singer toured 10 primary schools which her charity said she had built.
"She has built classrooms at existing schools... really it's a difference in terminology," the minister said.
Madonna, who has adopted two children from Malawi, originally planned to build an $15m (£9.9m) girls' academy.
But two years ago she closed down the Malawian office of her charity Raising Malawi, which was headed by President Joyce Banda's sister, Anjimile Mtila-Oponyo - who now works at the education ministry - and opted to fund 10 schools instead.
"They have said... they have built 10 schools in Malawi and on our side what we know is that she [Madonna] has built classrooms... these are not schools from our side and really that's the essence of the difference between her side and the Malawi government," Ms Kazembe said.
Trevor Neilson, president of the Global Philanthropy Group which is now managing Madonna's Raising Malawi projects, played down the war of words.
He said $400,000 had been spent on building the 10 school blocks allowing some 4,000 children, who had been learning under trees, to be taught in classrooms.
The BBC's Raphael Tenthani in Blantyre says most schools in Malawi have some buildings, but there are also classes taught under trees.
The singer received a warm welcome at the Nkoko Primary School in the central tobacco-growing district of Kasungu on Tuesday where she had constructed a school block with the non-profit organisation, BuildOn, our reporter says.
"I love Malawi, I am committed to help end poverty here," the pop star said as school children, joined by hundreds of villagers, danced around her at the school.
Ms Kazembe said that while Malawi was grateful for assistance, "protocol must be observed" and the education ministry should be kept abreast of a donor's plans.
"She promised an academy and we agreed on standards but she just changed her mind on the project without consulting us," she said.
"We'd like them to work with us so that they can be absorbed into the strategy of Malawi's education and that goes not just for Madonna - any group that comes to Malawi to assist us in education."
An individual should not "go to some remote part of Malawi and start doing whatever because at the end of the day we must plan for teachers", Ms Kazembe said.
Mr Neilson said the US singer admired President Banda, who came to power a year ago, and said "contrary to reports, Madonna's relationship with Malawi government is good".
Related Internet Links
The BBC is not responsible for the content of external sites.