Archbishop Desmond Tutu wins £1.1m Templeton Prize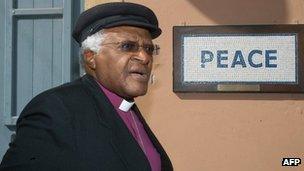 Archbishop Desmond Tutu has won the £1.1m ($1.6m) Templeton Prize for "affirming life's spiritual dimension".
Organisers said he was awarded the 2013 prize for his lifelong work advancing spiritual principles such as love and forgiveness that have helped to liberate people around the world.
The former Anglican archbishop of Cape Town joins a distinguished group of 42 previous recipients.
Archbishop Tutu will receive the prize at the Guildhall in London on 21 May.
The 81-year-old veteran peace campaigner said: "When you are in a crowd and you stand out from the crowd it's usually because you are being carried on the shoulders of others.
"I want to acknowledge all the wonderful people who accepted me as their leader at home and so to accept this prize in a representative capacity."
The Templeton Prize has for the past 40 years been the world's largest annual monetary award given to an individual.
It celebrates "a living person who has made an exceptional contribution to affirming life's spiritual dimension, whether through insight, discovery, or practical works".
Last year's Templeton Prize Laureate was Tibetan Buddhist spiritual leader, the Dalai Lama.
The prize was founded in 1972 by the late global investor and philanthropist Sir John Templeton.
It forms part of the John Templeton Foundation's "international efforts to serve as a philanthropic catalyst for discoveries relating to the Big Questions of human purpose and ultimate reality."
Dr John M Templeton Jr said: "By embracing such universal concepts of the image of God within each person, Desmond Tutu also demonstrates how the innate humanity within each of us is intrinsically tied to the humanity between all peoples."
Last year Archbishop Tutu was awarded $1m (£620,000) by the London-based Mo Ibrahim Foundation for Africa for "speaking truth to power".
He won the Nobel Peace Prize in 1984 for his campaign against apartheid in South Africa.
Related Internet Links
The BBC is not responsible for the content of external sites.