'Dozens die' in Nigeria road crash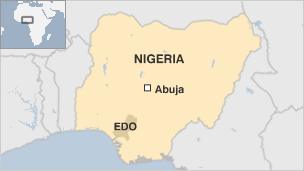 At least 36 people, including children, have reportedly been killed in a major road accident in southern Nigeria.
The collision on the Benin-Ore motorway in Edo state involved a bus, a lorry and a petrol tanker, Nigerian officials were quoted as saying by news agencies.
The tanker exploded after the collision, and most of the victims were reportedly on board the bus. The cause of the accident is being investigated.
Nigeria has one of the worst road accident records in Africa.
Friday's collision happened at about 13:30 local time (12:30 GMT) near the Ugboguii village, the local officials say.
Jonas Agwu, a spokesman for Nigeria's Federal Road Safety Commission, said the dead included 30 passengers from the bus, the AFP news agency reports.
Four people from the tanker died as well as two children who were at a nearby mechanic workshop, the spokesman added. Three people were rescued.
The accident closed the busy motorway linking the commercial capital Lagos with the south-east of the country.
It comes just two days after a head-on collision between two buses in central Nigeria killed 18 people.
Last July, more than 100 people died in southern Nigeria after a tanker carrying petrol crashed.
The vehicle did not immediately burst into flames so nearby villagers rushed to collect the fuel. But the tanker then exploded, burning many of them to death.