South Africa army 'not scared' of DR Congo conflict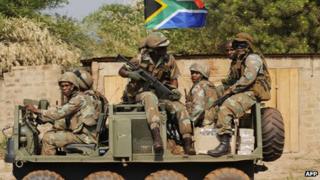 South Africa's army is "not scared" of confronting Democratic Republic Congo rebels, despite the recent killing of its soldiers in the Central African Republic (CAR), a spokesman has said.
South Africa plans to deploy troops to DR Congo, as part of a new UN attack force to end conflict in the east.
"We are not scared to go to war," army spokesman Xolani Mabanga said.
Last week, South Africa said it was withdrawing troops from CAR after "bandits" killed 13 of its soldiers.
A further 22 soldiers were wounded in what President Jacob Zuma called a nine-hour-long "high tempo battle", as the Seleka rebel group entered the capital, Bangui, overthrowing CAR leader Francois Bozize.
It was the highest number of casualties South Africa's army had sustained since white minority rule ended in 1994.
'Undeterred'
South Africa has played a key role in training African armies and taking part in peacekeeping operations in areas hit by conflict.
Last month, the UN Security Council approved plans to send a 2,500-strong brigade to eastern DR Congo to "neutralise and disarm" rebel groups.
Troops from South Africa, Malawi, Tanzania and Mozambique are expected to make up the force.
Brig-Gen Mabanga told South Africa's public broadcaster, SABC, that the national army had a better understanding of the conflict in DR Congo then CAR.
"If they [DR Congo's M23 rebel group] declare war against the SA National Defence Force (SANDF) personnel, we are ready to tackle them," he said.
"We, as the SANDF, will never be deterred by any circumstances to pursue or do what we are asked to do by the government of South Africa."
South Africa currently has about 1,000 troops in DR Congo, as part of a 20,000-strong UN peace-keeping force, which will be boosted by the deployment of the attack force.
The M23 captured the main eastern city, Goma last year, with little resistance from UN troops based in the city.
It gave up the city after pressure from neighbouring Rwanda and Uganda.
Last week, Mr Zuma said South Africa was withdrawing its 200 troops from the CAR, as they had been deployed in January as part of a deal with the ousted president to help retrain the army.
Seleka had denounced the troops as "mercenaries" deployed to help Mr Bozize stay in power.
Mr Bozize is now exiled in Cameroon, accusing Chad of backing the rebellion against him - an allegation it denies.