Tunisia recovers money 'stolen' by ex president Ben Ali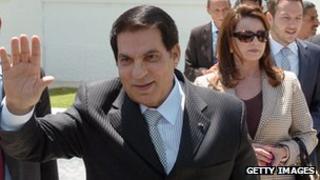 Tunisia has received $29m (£19m) from what it calls looted assets held by ex-President Zine el Abidine Ben Ali.
The money was recovered by the United Nations' Stolen Asset Recovery team, reports Tunisia's state news agency.
Mr Ben Ali fled Tunisia in January 2011 following popular protests which ended his 23-year rule at the start of what became known as the Arab Spring.
The cheque for $29m was handed to President Moncef Marzouki by the UN's Ali bin Fetais al-Marri, reports TAP.
Mr al-Marri was appointed by the UN to head efforts to recover money from leaders overthrown in Arab uprisings.
The money had reportedly been held in a Lebanese bank account belonging to Laila Trabelsi, the wife of Mr Ben Ali. She is believed to have fled to Saudi Arabia with Mr Ben Ali after the uprisings.
Difficult economic times mean that Tunisia's Islamist-led government face popular pressure to recover the remaining money.
However there have been political and legal difficulties in gaining access to accounts where the money is believed to be held,.
The Tunis government has requested a $1.78bn IMF loan, which is being discussed this week.