Tunisia Ben Ali son-in-law granted asylum in Seychelles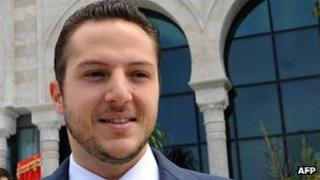 The son-in-law of Tunisia's former president has been granted asylum in the Seychelles, officials say.
Businessman Sakher El Materi was arrested as he tried to enter in the island state in December 2012 and reportedly applied to stay in February.
He had fled Tunisia for Qatar after the uprising that ousted President Zine al-Abidine Ben Ali in January 2011.
Months later, a court in Tunisian convicted him of corruption in absentia.
Materi, along with his wife and their three children, have now been granted a 12-month residence permit in the Seychelles, according to its immigration department.
The Indian Ocean archipelago was a regular holiday destination for the former president and his close family.
The country's law did not make specific provisions for political asylum, a government statement said.
But the permit was issued because it believed Materi would not receive justice in his home nation, according to AFP news agency.
"The government of Seychelles has not satisfied itself that the conditions exist in Tunisia at this point for a free and fair trial if Mr El Materi were to be repatriated back to face the charges set out against him there," immigration officials said.
Materi was convicted of corruption in absentia, along with his wife, Nesrine, and her father, Tunisia's ousted president.
Materi and Ben Ali were sentenced to 16 years in prison and Nesrine was given an eight-year jail term.