Kenya children buried in landslide after heavy rain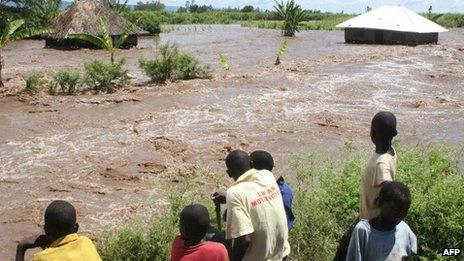 Two children have been trapped in their home after a landslide in western Kenya, police have told the BBC.
They were asleep in a village in the Narok area when their house was covered by mud following heavy rain overnight, Narok police chief Peterson Maelo said.
Rescue workers at the scene were attempting to dig them out, the Kenya Red Cross told the BBC.
Flooding across the country this month has left 36 people dead and displaced more than 52,000, the aid group said.
Kenya's main rainy season is between March and May and often causes floods.
Several other houses were also destroyed in the landslide in Olutrot village in Narok county, an agricultural area about 100km (62 miles) west of the capital, Nairobi.
Mr Maelo said although rescue efforts were ongoing, the chances of finding the children alive were remote.
Kenya Red Cross Secretary General Abbas Gullet warned those living in areas prone to landslides to move because of the ongoing rains.
Rescue efforts were continuing across the country to help those who had been marooned because of rising waters, he said.
"The situation is getting worse," Mr Gullet told the BBC.
Villagers near Garissa in the usually arid north-east of the country have also been cut off, he added.
The BBC's Wanyama Chebusiri in Nairobi says roads in many areas have become impassable.
The main highway linking Kenya to Uganda and then onto other landlocked countries is undergoing urgent repairs where some of it was washed away near Naivasha, he says.
On Monday, Kenya's Deputy President William Ruto said the government had set aside about $18m (£11.7m) to rebuild roads and assist the victims.
Mr Gullet said the Kenya Red Cross was appealing for humanitarian assistance for people currently living in makeshift houses and tents.
Related Internet Links
The BBC is not responsible for the content of external sites.