US to redeploy Morocco troops in Western Sahara spat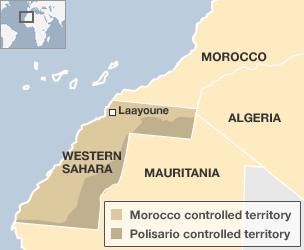 The US is redeploying forces that were meant to take part in joint military exercises in Morocco amid a disagreement over Western Sahara.
Morocco cancelled the exercises, which were starting this month, after the US said it wanted the UN to monitor human rights in Western Sahara.
Morocco called the proposed monitoring, long demanded by human rights groups, an attack on its sovereignty.
Morocco annexed most of the disputed former Spanish colony in 1976.
It has put forward an autonomy plan for the part of Western Sahara it controls. That is opposed by the pro-independence Polisario Front, which wants a referendum on the status of the territory that includes the option of independence.
The US proposal for the UN to monitor human rights as part of its duties in Western Sahara came after UN Secretary-General Ban Ki-moon backed "sustained" human rights monitoring in Western Sahara.
The proposal was included in a draft resolution for the annual extension of the mission, which is expected to be put to a vote in the UN Security Council later this month.
Morocco, which has frequently been accused of abuses against activists in the Western Sahara, reacted angrily.
"It is an attack on the national sovereignty of Morocco and will have negative consequences on the stability of the whole region," said Mustapha Khalfi, Morocco's communications minister.
"We count on the wisdom of the members of the Security Council to avoid such initiatives."
No state recognises Morocco's claim to Western Sahara, but in the past it has been supported at the UN by France and the US, both permanent members of the Security Council.
The African Lion 2013 joint military exercises would have involved 1,400 US military personnel and 900 Moroccan troops.
Chuck Prichard, a spokesman for US Africa Command (Africom), told the BBC that the exercises had been "deferred" at Morocco's request, and that "the US forces that are there are making plans to redeploy".
The African Lion exercises are among the larger of the annual drills held by Africom and take several months to plan, he said.
Morocco and the Polisario Front fought over Western Sahara until a ceasefire signed in 1991.
Many of those who fled the conflict are still living in refugee camps in southern Algeria.