Senegal's Karim Wade charged with corruption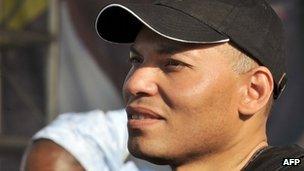 The son of Senegal's former President Abdoulaye Wade is in police custody after being charged with corruption in connection with his personal fortune.
Karim Wade denies the accusations that he illegally amassed about $1.4bn (£900m) during his father's rule.
The 44-year-old was a senior minister during his father's rule from 2000 to 2012, and was in charge of major infrastructure and energy projects.
Mr Wade is alleged to have acquired several foreign firms by illicit means.
He was arrested on Monday, just hours after his lawyers submitted documents relating to his assets to a courthouse.
'Minister of earth and sky'
Prosecutors announced an investigation into Mr Wade and five other former ministers last year.
It followed the defeat of Abdoulaye Wade in the March 2012 presidential election by Macky Sall, who pledged to fight corruption.
During Abdoulaye Wade's 12-year rule, Karim Wade held several ministerial posts simultaneously, including minister for infrastructure and air transportation.
His large portfolio led to him being dubbed "the minister of the earth and the sky", but it also put him in charge of a large proportion of Senegal's government budget at a time of large-scale infrastructure spending.