Letter from Africa: The legacy of fallen leaders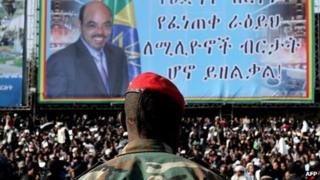 In our series of letters from Africa journalists, London-based Ugandan writer Joel Kibazo considers what happens in a country when a dominating leader passes away.
On a recent trip to Ethiopia it suddenly struck me as we drove around Addis Ababa that there were pictures of Meles Zanawi all over the place.
The pictures of the late prime minister who died last August were on buildings, on the T-shirts of people walking around, on stickers on the backs of taxis and buses and they even decorated roundabouts in the middle of the road.
The late leader was a formidable person, ever eager to take on anyone in an argument.
I last saw him in Addis Ababa a couple of months before he fell ill when he held court for more than two hours at a meeting I attended for a small group of foreign business leaders and Gordon Brown, the former British prime minister.
His grasp of detail was simply amazing and afterwards he walked out to a scrum of journalists and people eager to catch his attention and took questions for another half an hour.
The country he led for more than 21 years effected a remarkably smooth transition and after his elaborate funeral, I thought that was it and his legacy would live on in the history books.
How wrong I was.
The pictures of Mr Meles plastered around Addis tell a very different story and earlier this month regional leaders including Presidents Yoweri Museveni of Uganda and Ismail Guellehof Djibouti, were among dignitaries that gathered in Addis Ababa for the launch of the Meles Zenawi Foundation.
Apart from the speeches celebrating the life of the former prime minister, several of the leaders attending the launch made substantial financial pledges to the foundation.
The late prime minister loomed large over Ethiopia and it seems his people have decided they are not yet ready to let him go.
But Ethiopia is not alone in this endeavour of trying to keep the memory of a fallen hero.
'Fear of the future?'
In Venezuela the struggle to hold on to the halo of the late President Hugo Chavez who died last month after a long battle with cancer continues apace.
Having ruled out embalming his body for permanent display as officials had initially announced, the latest move is to turn the office where the late President Chavez worked into a museum.
But what I wonder, is the point of such actions and what do they say about a particular society?
Is the attempt to cling on to a departed leader in whatever form a way of marking past glory, a celebration of the past, a time when people were sure about certain things in life? Or is it simply a fear of embracing the future, with people unsure of what that future will bring?
Either way, it is not a vote of confidence for the leader that follows is it?
What is more, it leaves the new leader walking a tight rope, being careful not to appear as if they are eager to shut off the legacy of a much loved leader, but at the same time wanting to put their own stamp of leadership on the nation they are now leading.
Having said that, embracing the glow and legacy of a fallen leader can be beneficial, particularly if there is an election to fight and the new leader hopes that the love and following of the departed hero will be bestowed on them.
Next month, as Africa celebrates 50 years of the Organisation of African Unity and the African Union, it will be interesting to see how much focus there will be on our late leaders and how much will be made of their legacy.
The past may yet inform the future.
If you would like to comment on Joel Kibazo's latest column, please use the form below.