Ghanaians ban 'spirit child' killing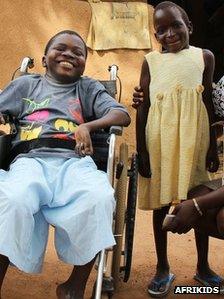 Local leaders in northern Ghana have announced the abolition of the ritual killing of babies born with physical disabilities, who were believed to have been possessed by evil spirits.
"Spirit children" were thought to have been a sign of impending misfortune and given a poisonous drink to kill them.
One campaigner told the BBC that improved healthcare and education meant such beliefs were becoming less common.
Activist Raymond Ayine welcomed the ban, which covers seven towns.
But he said he could not guarantee that the practice had been eradicated from the whole country.
The BBC's Vera Kwakofi says the Kasena-Nankana region, where the ban has been announced, is the part of Ghana where such beliefs are most widespread.
Sometimes, babies born at the same time as a family misfortune were also accused of being "spirit children" and killed.
The "concoction men" who used to give the children the poisonous drink have been given new roles; they will now work with disabled children to promote their rights.
Investigative journalist Anas Aremeyaw Anas told the BBC's Focus on Africa programme that he took a plastic doll to a soothsayer, saying it was a child with eating problems and physical disabilities.
"He consulted the oracles, jumped up and down and after this said that the oracles confirmed that the child was an evil child and that the child needed to be killed immediately, and that the child had already killed two members of my family," he said.
Local chief Naba Henry Abawine Amenga-Etigo said that anyone caught trying to harm children from now on would be handed over to the police.
Mr Ayine, from the campaign group Afrikids, said he was "saddened that in today's era, a child could lose its life because of such a barbaric practice".
He noted that in rural areas where such beliefs are more common, women often give birth without ever seeing a midwife, let alone having a pre-natal scan. As a result, childbirth leads to complications more often than elsewhere, he said.
He also said that even before the official ban, there had been no recorded case of the killing of "spirit children" in the area for the past three years.
He put this down to awareness campaigns, as well as improved access to education that meant more people understood that physical disabilities had a medical explanation.
In other parts of northern Ghana, elderly women accused of being witches are sometimes forced to leave their homes and live in "witch camps".
Related Internet Links
The BBC is not responsible for the content of external sites.