Mali court drops case against editor Boukary Daou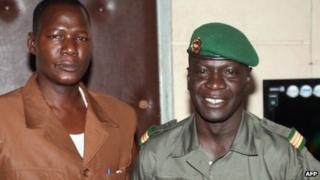 A court in Mali has thrown out a case against a newspaper editor charged with inciting disobedience for publishing a letter from disgruntled soldiers.
Le Republicain editor Boukary Daou was arrested in March and held in custody for nearly a month before getting bail.
His paper had published a letter that criticised the salary of the leader of a coup that ousted Mali's government, and said soldiers lacked equipment.
Malian troops are currently trying to drive Islamist rebels from the north.
The French-led operation began in January after various Islamist groups - including al-Qaeda in the Islamic Maghreb - and Tuareg separatists took advantage of the chaos following a coup in March 2012 to take over the vast northern desert region.
'Deeply moved'
Mali's private media went on strike for four days following Mr Daou's arrest. His detention was also criticised by Mali's press association and the global media watchdog, Reporters Without Borders.
Mr Daou, who was also charged with publishing false information, said he was "deeply moved" by the court's decision, according to the AFP news agency.
"I thank all the press for their support. I thank my lawyers. This is a victory for freedom of the press in Mali," he was quoted as saying.
Earlier this year, Capt Amadou Sanogo, who headed the coup, was named as the head of a committee for the interim government to oversee reforms in the military. He is believed to be paid about $7,800 (£5,250) a month.
Capt Sanogo led the coup saying the army was ill-equipped to fight a rebellion led by Tuareg separatist fighters in the north.
A subsequent alliance between the Islamists and Tuareg separatists later collapsed, with the Islamists becoming the dominant force in the north - and prompting France's intervention.
The UN recently agreed to create a 12,000-strong peacekeeping force for Mali and nationwide elections are due in July.