Gupta wedding row: South Africa suspends officials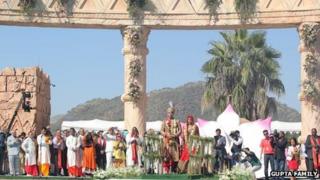 Five high-ranking officials in South Africa have been suspended as the government investigates security breaches during a society wedding.
The justice minister said three police officers had also been arrested.
A wealthy Indian family was allowed to land a private jet at a military base near the capital, Pretoria.
The Gupta family, which flew in guests reportedly including Bollywood film stars and Indian government officials, has denied any wrongdoing.
The Gupta brothers - Atul, Ajay and Rajesh - are said have wielded enormous influence in South Africa since white minority rule ended in 1994.
Their business interests cover mining, aviation, technology and the media.
On Thursday, it was also announced that the Indian embassy would be investigated to see if it abused diplomatic privileges in connection with the wedding.
Correspondents say the scandal has caused outrage in South Africa, and opposition MPs and trade union Cosatu have called for a full parliamentary inquiry.
'Gravely concerned'
Justice Minister Jeff Radebe addressed a news conference in Pretoria on Friday morning, along with most of the cabinet and several senior security officials.
He said a high-level team had seven days in which to complete its investigation and report back to cabinet to explain how a private plane carrying 200 guests of the Gupta family from India had come to land at Air Force Base (AFB) Waterkloof.
"Government is gravely concerned at this violation of the security protocol and total disregard of established practice for clearing the landing of aircraft in a military facility that is of strategic importance to the country," Mr Radebe said.
"Government has no record of a note verbale from the Indian high commission notifying the Department of International Relations and Co-operation of a visiting delegation requiring diplomatic assistance, and aircraft clearance and landing rights."
The Indian high commission's defence attache had sent a request for aircraft clearance directly to the an air force unit within the military, he added.
On Tuesday, the guests appeared to receive a police escort to the casino resort of Sun City for the wedding of 23-year-old Vega Gupta, the Gupta brothers' niece, to Indian-born Aaskash Jahajgarhia.
A criminal case had been opened into this as emergency lights and false number plates had been used, the justice minister said.
Three police officers were arrested over their role in the escort, he added.
Four of the suspended officials are senior figures in police and military; the fifth official, the head of state protocol, was suspended on Thursday.
The Gupta family said was it was saddened by the "ongoing negative reporting" surrounding the four-day wedding, and hope the investigations will "reveal the truth".
"It was planned as a destination wedding to tempt other Indian families to use South Africa as a venue instead of going to Mauritius or Thailand," spokesman Haranath Ghosh said in a statement.
"For the record, the family has obtained each and every permission for any and every part of the event.
"The family was not directly involved in the Waterkloof incident, but have been assured by the Indian high commission that proper process was followed and agreements reached with the appropriate officials in Dirco [Department of International Relations and Co-operation] as would happen in any visit by high profile ministers and dignitaries," Mr Ghosh added.
"We can categorically state that no police escorts are being used for the family during the wedding."