Tanzania church attack: Saudis held for 'act of terror'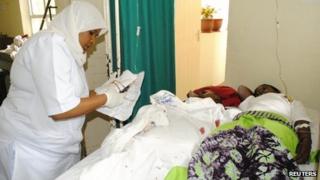 Eight people - four Saudi nationals and four Tanzanians - have been arrested in connection with the bombing of a new Roman Catholic church in the northern Tanzanian city of Arusha on Sunday.
The Saudis were detained as they tried to cross into Kenya, police said.
At least two people were killed by the blast, which President Jakaya Kikwete condemned as "act of terrorism".
The Vatican's ambassador to Tanzania and the archbishop of Arusha were in the church at the time of the attack.
Archbishops Francisco Montecillo Padilla and Josaphat Louis Lebulu escaped unharmed.
No group has said it carried out Sunday's bombing, in which dozens of people were wounded.
However, suicide bombers linked to al-Qaeda killed 11 people in an attack on the US embassy in Dar es Salaam in 1998. A simultaneous attack in Nairobi killed 212 others.
Sectarian violence
Sunday's bombing occurred during the inaugural Mass at St Joseph's Roman Catholic church in Olasti, a suburb of Arusha which is predominantly Christian.
On Monday, Internal Affairs Minister Emmanuel Nchimbi told parliament that police and army experts had been examining the scene.
"Preliminary investigations show that the bomb was thrown into the church compound, but we don't know its nature," he said, adding that there were "indications that more people are involved".
"We must protect national unity, peace and tranquillity of our country at any costs," he added.
Arusha Regional Commissioner Magesa Mulongo said the Saudis had flown into an airport near Arusha on Saturday. They were detained late on Sunday while trying to cross the border with Kenya, he added.
President Kikwete said he was "shocked and deeply saddened".
"We are ready to deal with all criminals, including terrorists and their agents, who are based in the country or externally," he added.
Tanzania has seen a rise in sectarian violence between Christians and Muslims in the past year.
Last month, police in southern Tanzania used teargas to disperse about 200 Christian rioters attempting to set fire to a mosque following a dispute over animal slaughtering.
In February, a Catholic priest was shot in the head on the largely Muslim island of Zanzibar.
Last year, Muslim cleric Sheikh Ponda Issa Ponda was arrested over attacks on churches, following rumours that a Christian boy had urinated on a copy of the Koran.
There are no official records of religious affiliation in Tanzania so it is not clear whether Muslims or Christians form the majority.