Kenya condom advert opposed by Catholic Church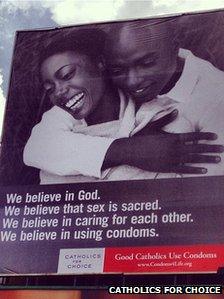 Kenya's Roman Catholic Church has condemned a Catholic group for a billboard and newspaper advertising campaign promoting condom use.
The US-based Catholics for Choice was planting "negative attitudes" that could destroy the nation's "moral fibre", church leaders said.
Catholics for Choice defend it, saying it could curb the spread of HIV.
Around 1.6 million people out of Kenya's population of 41.6 million are living with HIV, according to the UN.
Catholics are heavily divided over the use of condoms.
A television advert urging married women to use condoms was recently pulled from Kenyan television following an outcry from religious groups.
Catholics for Choice has said its "condoms4life" campaign shows "an authentically Catholic message".
The group has run advertisements in newspapers and billboards in Kenya showing a smiling couple with the slogan: "Good Catholics Use Condoms".
"We believe in God. We believe that sex is sacred. We believe in caring for each other. We believe in using condoms," the advert reads.
But Cardinal John Njue, chairman of the Kenya Conference of Catholic Bishops, said the church promoted pro-life, not pro-choice.
"Catholics for Choice are not Catholics in the sense of the one, Holy, Catholic and Apostolic Church," he said in a statement.
Cardinal Njue called for the advertisements to be stopped.
"Remember if the moral fibre of any nation is destroyed, then you have destroyed the nation as well," he said.
The Kenyan bishops' anti-condom remarks contradict the view of Emeritus Pope Benedict XVI who stated in 2010 that "where the intention is to reduce the risk of infection" condoms can be "a first step in a movement toward a different way, a more human way, of living sexuality", Mr O'Brien said.
Pope Francis was chosen as the head of Catholic Church last month after Pope Benedict stepped down, saying he was too frail to carry on in the job.
The new pope has not commented about the use of condoms since his elevation to the papacy.
Related Internet Links
The BBC is not responsible for the content of external sites.