Boko Haram timeline: From preachers to slave raiders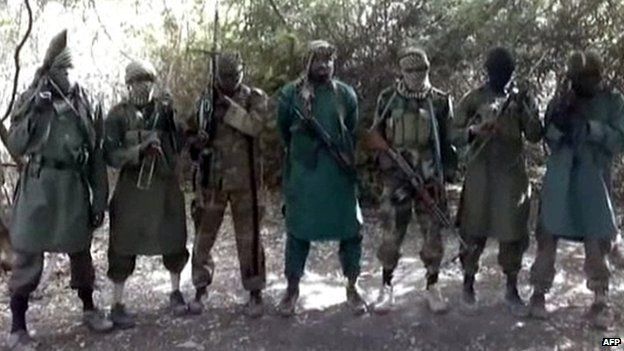 Nigeria's President Goodluck Jonathan has declared a state of emergency in three north-eastern states as militant Islamists intensify their offensive against the government.
The insurgency, led by Boko Haram, has killed some 2,000 people since 2009. It has spread across the mainly Muslim north and central Nigeria.
With the attacks becoming increasingly sophisticated, there is growing concern that Boko Haram is receiving backing from al-Qaeda-linked militants in other countries.
Here, BBC Africa's Farouk Chothia looks at the changing nature of the conflict.
First large-scale incursion: May 2013
Boko Haram has increased its focus on smaller towns in north-eastern Nigeria in recent months after the military drove many of its fighters out of Maiduguri - the capital of Borno state, which was the group's main base.
Boko Haram militants have since infiltrated nearby towns, with little resistance from the army.
In a well-planned attack on 7 May 2013 in Bama, some 70km (44 miles) from Maiduguri, about 200 heavily armed men stormed a military barracks, police station and government buildings.
Fifty-five people were killed and 105 prisoners were freed in the raids. Significantly, the militants launched the attack in armoured vehicles mounted with machine guns.
It suggests that they are becoming better-resourced and they can adapt to the changing terrain. Easy to use motorcycles are the trademark for Boko Haram attacks in cities.
The Bama violence came a few weeks after Boko Haram attacked a military patrol in Baga, a nearby town in which it is said to have also built a presence, forcibly recruiting youth into its ranks.
The military retaliated by launching a raid on the town, accusing residents of harbouring the militants.
Nearly 200 people died in the raid, and thousands of buildings were destroyed, leading to claims by rights groups that the military had used excessive force - an allegation it has repeatedly faced as it tries to quell the insurgency launched in 2009.
The army denied the allegation, and blamed Boko Haram for the deaths of 37 people.
Boko Haram leader Abubakar Shekau released a video on 13 May 2013, saying Boko Haram had taken women and children - including teenage girls - hostage in response to the arrest of its members' wives and children.
It is unclear whether the hostages are the relatives of government officials or civilians.
Mr Shekau said the hostages would be treated as "slaves", fuelling concern that Boko Haram is adhering to the ancient Islamic belief that women captured during war are slaves with whom their "masters" can have sex.
Now established in remote areas close to Nigeria's north-eastern border, Boko Haram launched its first operation in neighbouring Cameroon in February 2013.
Its fighters abducted French nationals as they were returning from a visit to Waza National Park.
The group said it took them hostage in response to France's military intervention against militant Islamists in Mali.
The French family of seven, including four children aged between five and 12, were freed some two months later.
A Nigerian government report, seen by Reuters news agency, said Boko Haram was paid a ransom of more than $3m (£2m) to release the hostages.
The French and Cameroonian governments denied any ransom was paid.
This was the first time Boko Haram had said that it had taken hostages. Another northern Nigerian Islamist group, Ansaru - which was formed in 2012 and is believed to have links to al-Qaeda - has been involved in abducting foreigners.
It is unclear where Boko Haram held the French family captive; some analysts believe it was in one of the towns which fell under the militants' control this year.
A suicide bomber detonated himself at a mosque in Maiduguri in July 2012, after Friday prayers. His target was believed to have been the most senior Muslim leader in Borno, Alhaji Abubakar Umar Garbai El-Kanemi. He narrowly escaped death, but five other worshippers were killed.
Boko Haram did not comment on the attack, but many residents believed that the suicide bomber came from its ranks and the attack was aimed at eliminating or intimidating moderate Muslims opposed to the group.
In a second attack a few weeks later, a suicide bomber tried to kill the traditional leader of the Fika emirate in Yobe state, Alhaji Muhammed Abali Ibn Mohammed Idrisa. The bomber blew himself up after he was confronted by bodyguards.
The attack on Mr Idrissa did not come as a surprise, as he is a former state security officer.
In January 2012, Boko Haram carried out its bloodiest assault in a single day - the killing of about 185 people in co-ordinated bombing and gun attacks across Kano, the biggest city in the north with a majority Muslim population.
In June, it assassinated the retired police Deputy Inspector General Saleh Abubakar Ningi after ambushing his vehicle in Kano. He is the most senior security official to be killed by Boko Haram so far.
In the same year, the group also carried out attacks on schools, the offices of the highly respected ThisDay newspaper and mobile phone firms, which it accused of colluding with the security forces by handing over data to them - an allegation the companies denied.
In June 2011, a suicide bomber rammed a car into the police headquarters in the capital, Abuja, killing eight people.
The bomber is alleged to have joined the convoy of then-police chief Gen Hafiz Ringim, before detonating himself.
Gen Ringim was later sacked, as critics rounded on him for his failure to protect the heart of Nigeria's security establishment, let alone the rest of the country.
Some two months after the bombing, Boko Haram attacked the UN headquarters in Abuja, killing 23 people.
It was the first time the group had hit a foreign target. It released a video, describing the UN as a "forum of all the global evil" and offering praise for Osama Bin Laden, the al-Qaeda leader killed by US special forces in Pakistan.
This was the clearest indication that Boko Haram saw itself as part of a global jihadist movement, though some analysts believe its roots can be traced to 2001 when a group calling itself the Taleban emerged in northern Nigeria in response to the US military campaign in Afghanistan following the al-Qaeda-linked attacks in New York and Washington in the same year.
At least 32 people were killed in bomb blasts targeting churches on Christmas Eve 2010 in central Plateau state, which straddles Nigeria's mainly Muslim north and the Christian south.
Christmas Day services were also targeted in 2011, killing dozens of people just outside Abuja and other cities.
There have been many other attacks on churches, including an Easter bomb attack in the northern city of Kaduna in 2012. At least 41 people were killed.
The attacks have forced many churches to tighten security, and some have even banned women from carrying hand bags.
Launched in 2002, Boko Haram - which in the local Hausa language means "Western education is forbidden", a reference to the initial focus of its Islamist agenda - became a force to be reckoned with in 2009 when it raided police stations and government buildings in Maiduguri, and other northern cities.
Hundreds of people were killed in the ensuing clashes between the security forces and its members.
Soldiers raided Boko Haram's headquarters, an Islamic centre in Maiduguri where children from poor families, including those from neighbouring Chad and Niger, enrolled for religious studies, only to be recruited as fighters.
When the security forces seized control of the centre, they captured its leader, Mohammed Yusuf, who then died in police custody.
The military declared victory over Boko Haram, only to find the group reorganising itself under the leadership of Abubakar Shekau, who took it on a more militant path in the campaign to establish a puritanical Islamic state across Nigeria.