Why Nigeria's Hasfat Abiola risked following her father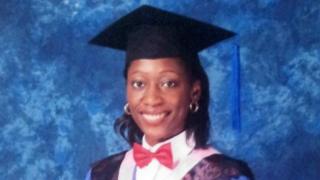 The BBC's Ed Davey reports on a Nigerian student's attempt to live a normal university life - despite the assassination of her mother - and her subsequent a drive to get more women into African politics.
The single female student was approached by an activist bearing a petition.
It called for the release of Moshood Abiola, presumed winner of the 1993 Nigerian election who had been languishing in jail since the army had assumed power.
The student smiled. "Do you know you are speaking about my father?"
This exchange took place at Harvard University in the mid-90s. The student was Hasfat Abiola.
It encapsulates the strangeness of student life with a family engaged in a life or death power struggle.
According to one study, there were 42 coups in West Africa alone during the second half of the last century.
But a less-familiar story is that of family members of protagonists.
"I was 19 when he won the election," recalled Ms Abiola. "It was in my sophomore year at university.
"The first inkling we got that something was wrong was that there was no announcement of victory.
"We realised the soldiers wanted to stay in power."
Within 17 days the election was annulled.
"We thought that the work was done," Ms Abiola told the BBC. "But we had been naive."
There followed the dictatorship of Sani Abacha, alleged to have looted more than $1bn from the country.
It was the prelude to a power struggle that was the backdrop to Mrs Abiola's university years.
"It was a very difficult time, very hard to stay focussed on schoolwork and doing things normal students do," she said.
"At that time there was no Skype or email - and phone calls to Nigeria were very expensive.
"My bill was almost $2,000."
After the election was cancelled there was a period of negotiation between Moshood Abiola and the military leaders.
But Ms Abiola says the generals were only interested in how much money her father wanted to agree to the annulment.
'Billions of dollars'
"They thought once they offered him a large enough amount he would accept," she said. "The only question was how much.
"They were talking billions of dollars."
Eventually Moshood Abiola was told his life was at risk.
He fled the country, staying with his daughter as she continued her studies at Harvard.
"He was still shell-shocked by the annulment," Ms Abiola recalled.
"We would spend the evening together looking at the options.
"He always used to tell us stories about his childhood, and he would still do that.
"But after a while he would go to his room. What he was doing there we did not know."
Ms Abiola continued: "I think he did not want us to realise this could lead to him dying. And we believed him.
"I think he was pretending a lot around us - pretending the issues were not weighing on his mind, that there was hope."
At first Mr Abiola appealed for the Western democracies. He was not successful.
"A stable oil price was their main consideration," said Ms Abiola. "So they bought no sanctions."
Her father then returned to Nigeria and declared himself winner of the election.
When he was charged with treason and jailed, Hasfat's mother Kudirat became a more visible campaigner.
"Up until then they thought my mother was an irritant," Ms Abiola said. "Now she was a threat."
Hasfat Abiola telephoned her mother to ask what she could do.
'Spine of steel'
"My mother said, 'I have been waiting for you to ask to be involved'," she recalled. "I had no idea.
"She was a very gentle person with a spine of steel."
One morning Ms Abiola was awoken by a telephone call from Nigeria telling her to expect bad news.
She was grimly certain something had happened to her mother.
"I was trying to call her, but the phone was engaged," she said.
Then a relation based in England called.
"She said, 'Hasfat, I am sorry but your mum is dead'," Ms Abiola recalled.
It was no accident - Kudirat Abiola's car had been ambushed and she had been gunned down.
"My mother was killed on the 4th of June," said Mrs Abiola. "I was due to graduate on the 6th of June.
"I was hoping she was going to come, but she never did."
Following the assassination, Ms Abiola began organising protests outside Nigerian embassies.
"My father was still alive, so there was still hope," she said.
There were developments. General Abacha died suddenly. It was announced Moshood Abiola was to be freed.
And then came another bolt from the blue.
"We were waiting for my father to be released when the New York Post rang up asking how I would respond to the news that my father was dead," Ms Abiola recalled.
"We sat down for the vigil again - just like we had for my mum."
'Basket case'
A team of international pathologists found Moshood Abiola died of natural causes. But many of his supporters blamed the military authorities.
After graduating, Ms Abiola followed her father into Nigerian politics.
And her experiences during the 1990s have led her to become involved in Chime for Change, a new campaign calling empowerment of women worldwide.
A fundraising concert on 1 June will be headlined by Beyonce.
She explained: "The basket case that is Nigeria in the last 14 years really begins from that period.
"There is a still a lot of corruption. It's the old game my father was fighting to change.
"That's why we need women to get involved in politics in Nigeria. Women can make sure attention is paid to female issues which are otherwise neglected."
Ms Abiola went on: "The general attitude in Nigeria is that women should be seen and not heard and be good.
"But while we are being good, health centres are not being built, schools are dilapidated, there are no exercise books or chairs.
"In Nigeria much of the poverty is borne by women."
Africa currently has two female heads of state, in Malawi and Liberia.
Landmine issue
Ms Abiola said: "Africa is definitely going in the right direction. Rwanda has the highest proportion of women in the legislature in the world."
But she insists there is still a long way to go, pointing to the effort to de-mine Angola. The numbers of men killed by mines fell - but it was not so for the other sex.
She said: "Women were still being blown up.
"It was men mapping the landmines - so they were taking out all the mines from major roads men use.
"But it women used side-roads to fetch water. And there were still landmines there."
She added: "If anything illustrates why women are needed in government it is that."