The OAU: Fifty years on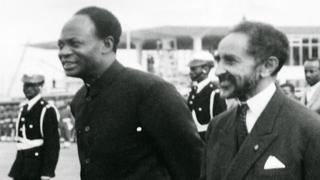 The Organisation of African Unity was formed 50 years ago - on 25 May 1963. It was a compromise between those who wanted something like a United States of Africa and those who wanted each country to remain independent.
It was based in Addis Ababa the capital of Ethiopia, one of just two African countries never to have been colonised. The body became the African Union in 2002.
Here are three views about its achievements:
Elizabeth Blunt, former BBC Addis Ababa correspondent
By the time I attended my first OAU summits in Addis Ababa in the 1980s, Ethiopia was in the grip of a brutal military dictatorship.
The country was obliged to give journalists visas to cover the summit but kept us on a very tight rein.
We were not allowed into the main part of the building; we were not allowed to see the resolutions - or indeed any of the documents.
Reporting became a cat and mouse game.
If you saw conference papers lying around you grabbed them and hid them in your bag until you could get to somewhere private and see what you had managed to get.
One heroic woman in the secretariat used to leave documents for me on a backstairs window sill behind the ladies' cloakroom.
I found a basement level passage which emerged in the delegates' tearoom and drank a lot of tea - mostly with rather taciturn Libyans - until I was caught and ejected.
Ethiopia has provided a stable home for the OAU and the African Union, but the price for the AU is that it has absorbed its host country's culture of secrecy, its default position of reticence and non-disclosure.
And that culture has always been warmly embraced by those African governments which have things to hide, and absolutely do not want their dirty linen to be washed in public.
This would not matter so much if all it did was inconvenience journalists like me.
But the AU is paid for by public money. It is African taxpayers who paid for those summits, the hotel bills, the lunches, the international phone calls.
The fact that for 50 years most African citizens have had no way of knowing what goes on at the AU and in their name still has the power to make me angry.
By the time I covered my last AU summit four years ago, what you might call a sensible tendency had started to emerge - a grouping, led by Mauritius but including Liberia and, rather discreetly, South Africa, which had coalesced around opposition to Colonel Muammar Gaddafi, but also in general wanted to see less grandstanding, less obfuscation and a more straightforward, open way of doing things.
Now, Gaddafi, Libya's former leader, is no more, a South African is chairing the AU commission and in Addis Ababa, a new generation has taken over the country's leadership.
It would be good to think that Ethiopia and AU together can shed their obsessive secrecy and be more relaxed and open with their citizens in the future.
Cameron Duodu, Ghanaian novelist and journalist
To many Africans, the greatest achievement of the organisation in 50 years has been its ability to stay together at all.
If anyone thinks that mine is a harsh verdict, let him be reminded that Africans still need visas - often expensive and time-wasting - to visit each other's countries.
Contrast that with the fact that the European Union, which came into existence in its present form 30 years after the formation of the OAU - now allows citizens from its 27 member countries to reside and work in each other's countries.
Free trade, which was prevalent throughout Africa before the European powers imposed borders on Africa during colonisation, is now restricted to regions that have signed specific protocols to allow free entry to each other's goods and services - groups such as the Economic Community of West African States (Ecowas) and the Southern African Customs Union (Sacu).
Indeed, according to the AU's own figures, intra-African trade stands only "at around 10%, compared to [the] 60%, 40%, and 30% … achieved by Europe, North America and Asean respectively".
A plan with lofty objectives - the New Economic Programme for Africa's Development (Nepad) - has been drawn up to try and improve trade relations and economic co-operation on the continent. But if the past is anything to go by, its implementation could take many decades.
The only hope for the continent's revival through strengthened political and economic links is the fascination with which the youth of the continent view such events as the Africa Cup of Nations football competition.
The youth will ask impatiently: "Why is it so difficult to travel to go and watch matches elsewhere on the continent?"
The arrival in force of the smart phone in Africa will make such questions ever harder to answer.
So, it is the upwardly mobile middle class - whether apolitical or not - that will generate the socio-economic pressures that will bring a truly organic version of African unity about.
The tail (the educated African populace) will wag the dog (the politicians and the bureaucrats).
It will constitute a slap in the face for the latter, no doubt.
But on the basis of their performance in the past 50 years, a well-deserved one, I think.
Ian Taylor, professor in international relations, St Andrews University, Scotland
The OAU Charter was essentially functional and reflected a compromise. Crucially, state sovereignty was enshrined.
As a result, the OAU became an ineffective collection of states, mostly led by autocrats, who refused to take any action if it involved the domestic affairs of other members.
Although the OAU played a role in the liberation struggles in southern Africa, its promise was never realised.
By the late 20th Century, it was clear that something had to be done.
In the post-Cold War environment, Africa's problems were now perceived in a more limited regional context and responsibility was shifted to Africans themselves.
Equally, in the euphoria that followed South Africa's democratic transition, a feeling of "renaissance" led to various new initiatives on the continent, most notably the replacement of the OAU with the African Union in 2002.
In relative terms, the AU is undoubtedly a step forward.
African governments have moved away from the rigid stance that sovereignty trumps everything and now recognise the right of the AU to intervene in member states if war crimes, genocide or crimes against humanity are occurring.
The AU has become involved in peacekeeping missions in Darfur and Somalia and it has also taken a hard stance against coup d'etats.
However, clubs are only as strong as their members.
The fundamental issue is that many of Africa's states are weak and dysfunctional and are headed by leaders who do not particularly care about their own people.
Until this changes, the AU is unlikely to gain its potential.