Q&A: Equatorial Guinea parliamentary election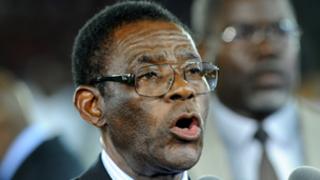 People in the West African nation of Equatorial Guinea will vote on 26 May in parliamentary and municipal elections.
President Teodoro Obiang Nguema has held power since 1979, making him the world's longest-serving, non-royal head of state. His party currently holds 99 of the 100 seats in parliament.
Human rights groups are concerned about the credibility of elections in the oil-rich country which has a history of corruption, politically motivated arrests and lack of freedom of speech.
What will people be voting for?
The lower house of parliament and local councillors. For the first time, they will also directly elect 55 members to a Senate, while Mr Obiang will hand-pick a further 15 members.
These elections follow the 2011 referendum when almost 98% of voters approved constitutional reforms establishing a Senate, capping presidential terms and creating the post of vice-president. Human rights groups said votes had been tampered with, opposition harassed and voters intimidated.
What state is the country in?
A former Spanish colony, Equatorial Guinea is one of Africa's smallest countries. Despite striking oil in the 1990s and becoming one of sub-Saharan Africa's biggest crude oil producers, most of its 740,000 people live on less than $1 a day, infant mortality is among the highest in Africa and it ranks poorly in the UN human development index. In July 2012, the French government issued an arrest warrant for Mr Obiang's son, Teodorin Nguema Obiang Mangue, on money-laundering charges and seized his Paris mansion as part of a corruption inquiry.
Who are the main parties?
The ruling coalition, led by the president's Partido Democratico de Guinea Ecuatorial (PDGE), which has won every election by 95% or more since Mr Obiang seized power in a coup. He says he has improved living standards and infrastructure and is working towards economic diversification under the 'Horizon 2020' plan. He denies allegations of nepotism and corruption - his family also hold the posts of deputy vice-president, energy minister and defence minister - saying that there is no poverty in the country, only "shortages".
The sole opposition MP, Placido Mico, leads the Convergencia Para la Democracia Social (CPDS). He says "the government wants dictatorship" and accuses it of having "retreated from democracy" by making lucrative oil deals with foreign companies and thereby covering up human rights abuses. Urging people to vote, Mr Mico says only the people can free themselves: "Hoping that the 'international community' will come to our rescue is irresponsible and illusionary".
The only other independent opposition party taking part is the Accion Popular de Guinea Ecuatorial.
Ten other officially recognized political parties have formed an alliance with the PDGE.
Will the elections be free and fair?
In the run-up to these elections, several activists trying to organize a peaceful demonstration were arrested, protesters were attacked by riot police with dogs and an opposition leader was arrested. The government said the protest was dispersed because illegal groups were taking part.
Access to Facebook and certain opposition websites including the CPDS was also blocked. The government has denied doing this deliberately, saying it was due to an "external virus".
Two days before the formal start of the campaign, Mr Mico said the PDGE had begun seeking votes and distributing its own election material while his party had had no airtime on radio or television nor had it received any promised electoral funding from the state.
The National Election Commission is controlled by the government.
What is the election procedure?
The number of polling stations and voters is unclear, but there were some 1,500 booths during the constitutional referendum held in 2011, with about 300,000 people eligible to vote.
Is there a free media?
President Obiang has denied reports that he imposed a news blackout on reports of the Arab Spring uprisings, saying that there is no ban on the media in his country. However, the authorities have tight control over the local media, with a virtual monopoly on funding and access to it. Reporters without Borders (RSF) ranks the country at 161 out of 179 in its press freedom index.
BBC Monitoring reports and analyses news from TV, radio, web and print media around the world. For more reports from BBC Monitoring, click here. You can follow BBC Monitoring on Twitter and Facebook.