Letter from Africa: United we stand?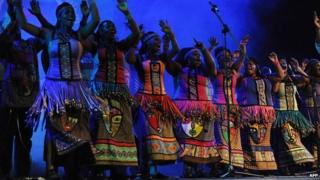 In our series of letters from African journalists, film-maker and columnist Farai Sevenzo looks at the 50-year long quest for African unity and prosperity.
A friend of mine we call "The General" was born on 25 May, sometime in the 1960s.
For any African, this is an auspicious day on which to enter the world.
Africa Day falls on 25 May because it was the day on which the Organisation of African Unity (OAU) came into being.
It was the birth of an idea to unite Africa's emerging nations so that they could find a common stand with which to fight poverty and insecurity, to harness their collective resources and rid the continent of the remains of colonialism and apartheid still clinging to Angola, Mozambique, South Africa, Namibia, Zimbabwe and in many other peoples' heads.
My friend, The General, is of that generation who have grown up twinned to an idea Bob Marley sang about in Africa Unite.
An idea that is only half a century old, but one which has always been discussed with a whiff of condescension by the powerful and, truth be told, an idea that has ridden these five decades on the backs of visionaries and madmen.
Even after Ghana's independence hero Kwame Nkrumah urged his fellow leaders to "forge a political union based on defence, foreign affairs and diplomacy, and a common citizenship, an African currency…", the OAU was to have Ugandan dictator Idi Amin chairing it, was to turn a blind eye to our many coups, was to take ex-Libyan leader Col Muammar Gaddafi's money and do nothing about his bloody end in October 2011.
Yet in the intervening years, it was to the OAU that a young Nelson Mandela went to for arms and money to fight white minority rule in South Africa and where every liberation movement found moral courage.
'More affluent'
The madmen did not make the notion of an African Union unsound.
At that founding conference in 1963 in Addis Ababa, Ethiopia's Emperor Haile Selassie was bemoaning that "road communications between neighbouring states are often difficult or even impossible. It is little wonder that trade among us has remained at a discouragingly low level".
Fifty years on, the summit of African leaders is being attended by the Brazilians pledging to restructure or write off $900m (£600m) of debt, and the Chinese, Americans and French are in Addis Ababa, while a clutch of regional bodies, from the South African Development Community (Sadc) to the Economic Community of West African States (Ecowas), are making the right noises about trade and taking advantage of Africa's healthy economic forecasts.
Then there is security.
While Mali and Ivory Coast have always called on Paris, these are 50 years in which Nigerian soldiers have died in the liberation of Liberia and Sierra Leone from intractable rebellion, in which Kenyans have given lives for the security of Somalia, Zimbabweans have died in Democratic Republic of Congo and South Africans in Burundi and the Central African Republic in the pursuit of African peace.
However, as my friend ages with the idea of the African Union, which the OAU became in 2002, he cannot help but see the men and women who struggle to make the founding dream a reality grow old in their jobs, and how little the leadership has changed in his lifetime as Africa's population grows younger, more educated and in many cases more affluent.
Perhaps the idea of an African union will forever be just that - an idea.
Enough for the generation born at the time of the founding conference to meander through an African life hoping that being a citizen of the African Union will not bring persecution in Cairo and alienation in Tripoli, that pitching up at Nairobi immigration with a valid Nigerian passport will not arouse suspicion, that wanting to open a restaurant in Accra would be as easy as opening one in Atlanta, in the US, or even that Ethiopians, who host the headquarters of the AU, feel as African as their leaders say they do.
For the Africa of the OAU generation has changed beyond the recognition of the men who still chair its meetings.
Traces of Africa are in an American president, in those suspected of last week's killing of a soldier on a London street, in a thousand and one faces from the Ukraine to Utah, in over-crowded jails and inner city blocks from Paris to Stockholm.
While money transfer companies will tell you that business to Africa is booming, the African Union needs to show that there is space for all Africans, including Nkrumah's grandchildren, in Africa's politics and future.
For as my dear friend, The General, is fond of saying: "Lost is not a TV series, it's a state of mind." And there speaks an African who has found a place to belong.
If you would like to comment on Farai Sevenzo's column, please do so below.