Libya GNC Chariman Muhammad al-Magarief resigns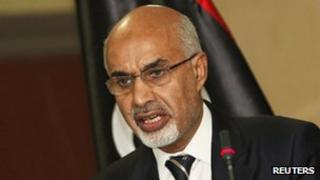 The chairman of the Libyan General National Congress (GNC) has resigned under a law which bans from public office anyone who worked for the government of Col Muammar Gaddafi.
In a statement aired live on Libyan TV, Muhammad al-Magarief said, "Parliament passed a political isolation law and everyone must comply with it."
The law on political isolation has been widely criticised for its sweeping scope, BBC correspondents say.
Col Gaddafi was ousted in August 2011.
"I place my resignation in your hands... and I do so with a clear conscience... with a head held high," said Mr Magarief, as he ended his 40-minute speech to congress.
It is currently unclear whether congress members need to formally vote on accepting or rejecting Mr al-Magarief resignation, says the BBC's Rana Jawad in Tripoli.
However, following Mr Magarief's statement, congress spokesman Omar Hmeidan said congress would need to vote on a new head.
Under the new law, ambassadors who served at any time in the Gaddafi era cannot be politically active.
There had been a lot of talk of possible amendments being made to the law to include "exceptions" but nothing has happened yet.
Dr Magarief served as ambassador to India for two years in the 1980s before he broke away from Gaddafi's government.
He spent 31 years in exile as leader of the Libyan National Salvation Front opposition group.