Oscar Pistorius case: Family 'shaken' by leaked photos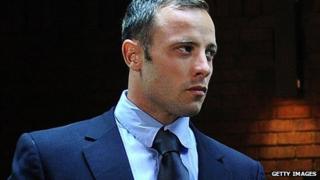 The family of South African athlete Oscar Pistorius is "shaken" by leaked photos of the bathroom where he shot dead his girlfriend in February, a spokesman has said.
Sky News on Friday showed graphic images purportedly of the bathroom where Reeva Steenkamp was killed.
Police said they were "disgusted" by the leak, local media reports.
Mr Pistorius denies committing murder by shooting her through a door - he says he mistook her for an intruder.
He is due to appear in court for a pre-trial hearing on Tuesday.
Mr Pistorius is a double amputee who won gold at the London 2012 Paralympic Games and also competed in the Olympics.
His arrest in February stunned many South Africans who saw him as a national sporting hero after his long legal battle to be able to compete in the Olympics.
His family stood fully behind him as he prepared for his court appearance, his uncle Arnold Pistorius said, in a statement.
Leak 'impedes investigation'
"We believe in him, love him and will support him every step of the way in what lies ahead," the statement added.
"We were shaken by the graphic images... of the accident scene at Oscar's house."
Police spokesman Phuti Setati said they were looking into who was behind the leak, South Africa's Times newspaper reports.
"This was unnecessary and we find it disgusting. We do not know the origin of the pictures," he is quoted as saying.
"It could be someone with a selfish interest and it should not have happened."
Mr Pistorius will appear in court on Tuesday for the first time since he was released on bail following his arrest over Ms Steenkamp's killing.
The case is expected to be adjourned as police investigations are still continuing.
Mr Pistorius has hired some of South Africa's best lawyers for his defence.
He says he shot dead Ms Steenkamp through the toilet door at his gated house in Pretoria after mistaking her for a burglar.
However, prosecutors say he killed her intentionally after a fight.
"It has always been our plea that the legal process be allowed to run its course with integrity," the family statement said.
"The leaking of evidential material into the public domain, before the court case, does not advance this process."
Former chief police investigator Hilton Botha said the pictures were not official police pictures and he believed they were taken with a mobile phone, South Africa's News24 website reports.
It means the defence team may have seen raw crime scene photos before they were officially disclosed to lawyers, potentially impeding the police investigation, he is quoted as saying.
In April, Police Minister Nathi Mthethwa said 49 mobile phones reportedly used to take photographs of Mr Pistorius in custody had been seized from police officers.
Mr Botha told local media at the time that international news groups offered $50,000 (£33,000) for photos of the toilet door through which Mr Pistorius shot Ms Steenkamp.