South Africa: Unionist 'killed at Lonmin mine'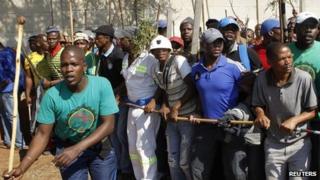 A unionist has been killed and another wounded at a Lonmin-owned platinum mine in South Africa, police say, amid tension between rival trade unions.
The National Union of Mineworkers (NUM) said the shooting happened near the town of Marikana, 120 km (70 miles) north-west of Johannesburg.
Police shot dead 34 workers in Marikana last August, causing national outrage.
Meanwhile, a Swiss firm said it had fired 1,000 workers who staged strikes at its chrome operations last week.
South Africa's crucial mining sector has been hit by conflict since last year, threatening investor confidence.
The Marikana dispute began as a row between the NUM and the rival Association of Mineworkers and Construction Union (AMCU).
'Critical condition'
Two men opened fire outside NUM's offices on Monday, AFP news agency cited National Union of Mineworkers (NUM) regional spokesman Mxhasi Sithethi as saying.
"[The unionist] ran back to the office. They followed him and killed him," Mr Sithethi is quoted as saying.
The attackers then shot the union treasurer at least six times when he confronted them, he added.
Police spokesman Col Fabata Mokgwenyane confirmed that one person had been killed, and another was in a critical condition in hospital.
"No information as yet on who was behind the shooting, still early to tell," he told the BBC.
The AMCU accuses the NUM of being too close to management and of failing to protect the interest of workers, an allegation it denies.
The NUM is allied to the governing African National Congress (ANC).
Former NUM General-Secretary Cyril Ramaphosa is now ANC deputy leader, and was on the board of Lonmin when the Marikana killings took place.
He has since resigned from the board.
Lonmin is listed on the London and Johannesburg stock exchanges.
A judge-led inquiry is investigating the Marikana killings.
Swiss-based Glencore Xstrata had dismissed 1,000 workers who embarked on a wildcat strike last week at three chrome mines in South Africa's Limpopo province, the company said.
"They have until tomorrow, Tuesday, to appeal their dismissal," spokesman Christopher Tsatsawane told AFP news agency.
Last week, President Jacob Zuma called on companies and workers to quickly find a solution to the crisis that has hit the mining industry.
South Africa is the world's leading platinum producer.