Former CAR leader Francois Bozize leaves Cameroon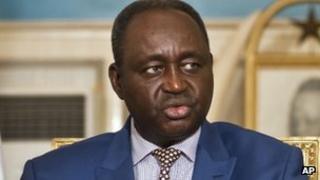 The ousted president of the Central African Republic, Francois Bozize, has left Cameroon, where he fled in March after rebels seized power.
The BBC's Jean-David Mihamle reports from Cameroon's capital, Yaounde, that he took a flight to Kenya. Sources said Mr Bozize was bound for South Africa.
It was unclear whether he was leaving Cameroon for good.
Authorities in CAR issued an international arrest warrant for Mr Bozize last week.
Public prosecutor Alain Tolmo said the former leader was accused of kidnappings, murder, crimes against humanity, and economic crimes.
During his stay in Yaounde, Mr Bozize had been transferred with some of his family from a well-known hotel to a villa in the Golf neighbourhood, near the presidential palace, our correspondent says.
He boarded a commercial flight to Nairobi late on Sunday evening.
Mr Bozize, 66, took power in CAR following a coup in 2003, winning two subsequent elections that were widely seen as fraudulent.
He fled as rebels from the Seleka alliance advanced on the capital, Bangui. He later accused Chad of backing the rebels - a charge denied by the government in Ndjamena.
An interim government headed by Seleka leader Michel Djotodia has pledged to hold elections after an 18-month transition.
The Agence France-Presse news agency reported continuing violence in CAR on Monday, including a deadly attack by men claiming to be Seleka rebels in the central town of Bouca, and a hostage taking in Baboua in the west.
CAR's neighbours said in April they would send 2,000 troops to help restore security.