Ethiopia ratifies River Nile treaty amid Egypt tension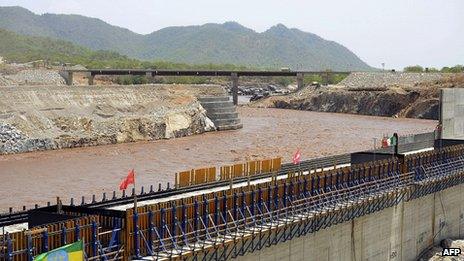 Ethiopia's parliament has ratified a treaty intended to replace colonial-era agreements that gave Egypt and Sudan the biggest share of the Nile's water.
The move comes amid growing tensions with Egypt over Ethiopia's plans for a hydroelectric dam on the Blue Nile.
Egyptian President Mohamed Morsi said on Monday he did not want war but would not allow Egypt's water supply to be endangered.
He said that he was keeping "all options open".
Cairo is worried that the dam will reduce the water supply vital for its 84 million people.
In the latest move, the Ethiopian parliament unanimously endorsed the new Nile River Co-operative Framework Agreement, an accord already signed by five other Nile-basin countries - Rwanda, Tanzania, Uganda, Kenya and Burundi.
The accord is the product of long negotiations to replace the 1929 treaty written by Britain that awarded Egypt veto power over any project involving the Nile by upstream countries.
Sudan and Egypt also signed a deal in 1959 dividing the Nile's waters between them.
The new agreement would establish a permanent body to oversee river management.
"Most of the upstream countries have approved it through their parliaments," Ethiopian government spokesman Bereket Simon told Reuters.
"We delayed it as a gesture of goodwill to the people of Egypt until a formal elected government was in place.
"We have a principled stance on the construction of dams. We are determined to see our projects brought to completion."
Egyptian Foreign Minister Mohamed Kamel Amr is due to visit Addis Ababa on Sunday for talks about the dam.
However, Ethiopia's foreign ministry has said there is no question of suspending work.
The African Union has urged dialogue and co-operation between Ethiopia, Egypt and Sudan.
Ethiopia says the $4.7bn (£3.1bn) Great Ethiopian Renaissance Dam will eventually provide 6,000 megawatts of power.
Egypt was apparently caught by surprise when Ethiopia started diverting the Blue Nile - a tributary of the Nile - last month.
Addis Ababa says the river will be slightly diverted but will then be able to follow its natural course.
Mr Morsi said Egypt had no objection to projects in Nile basin states "on condition that those projects do not affect or damage Egypt's legal and historical rights".
Earlier this month Egyptian politicians were inadvertently heard on live TV proposing military action over the dam.