Uhuru Kenyatta trial moved to November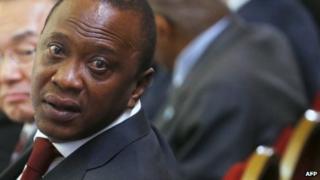 The International Criminal Court (ICC) has pushed back the trial of Kenyan President Uhuru Kenyatta to 12 November.
The decision was taken to give Mr Kenyatta's defence enough time to prepare for his trial, the ICC said.
Mr Kenyatta is accused of orchestrating violence after the 2007 election, an allegation he denies.
The African Union has called for the trial to be halted, saying the ICC was "hunting" Africans.
'Murder charge'
The ICC has refused to drop the charges, saying it pursues justice impartially.
It had rescheduled Mr Kenyatta's trial from 9 July to 12 November after judges ruled that defence lawyers should be given more time to prepare for his trial "due to the delays by the prosecution in disclosing its evidence", the ICC said in a statement.
Mr Kenyatta is charged with crimes against humanity, including murder and rape.
The ICC accuses him of being an "indirect co-perpetrator" in the violence that killed about 1,200 people and left more than 500,000 homeless after the disputed 2007 election.
Mr Kenyatta was elected president in March, beating then-Prime Minister Raila Odinga by 50.07% to 43.28%.
He used the charges to bolster his campaign, accusing the ICC of interfering in Kenya's internal affairs.
Kenya's Deputy President William Ruto is due to go on trial in September on similar charges.
On Tuesday, the ICC agreed that Mr Ruto only needs to be "physically present" at key sessions of his trial.
He had requested to participate in the trial via video link.
Mr Ruto and Mr Kenyatta were on opposite sides of the 2007 election, but formed an alliance for this year's election.
Mr Kenyatta backed his predecessor, Mwai Kibaki, in the 2007 election, while Mr Ruto supported Mr Odinga.
The names of key suspects involved in violence after the 2007 poll were handed over to the ICC by Kofi Annan, who brokered a power-sharing deal.
He did so after Kenyan politicians failed to set up a tribunal as promised to try those accused of instigating the violence.