Rwandan genocide: Sweden jails Stanislas Mbanenande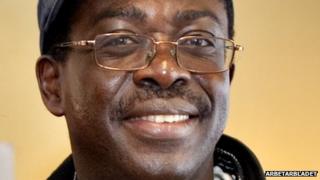 A Swedish court has sentenced a man of Rwandan origin to life in jail for his part in the 1994 genocide in Rwanda in which some 800,000 people were killed.
Stanislas Mbanenande, now a Swedish citizen, was found guilty of taking part in several massacres of mainly ethnic Tutsis in the 100-day genocide.
The court in the Swedish capital, Stockholm, agreed he had played a leading role among Hutu extremists.
He is the first person in Sweden to be found guilty of genocide.
Mbanenande, who was a civil engineer and lecturer in Rwanda and was granted Swedish citizenship in 2008, had denied the charges.
During his trial, Swedish judges flew to Rwanda to hear from some witnesses, with the defendant participating via video link.
Mbanenande not only recruited young men to take part in the killings but was also involved in those that occurred in a school, a Catholic church, a hotel and a stadium in Kibuye, a city in western Rwanda, the court said.
"The accused had an informal role as a leader and himself fired at the crowd with an automatic weapon," Swedish newspaper The Local quotes the district court verdict as saying.
Rwanda had asked Sweden to extradite Mbanenande to face genocide charges, but Stockholm refused as he was a Swedish citizen.
A Rwandan community "gacaca" court then sentenced him to life in prison in absentia in 2009.
Mbanenande's lawyer, Tomas Nilsson, said his client would appeal.
"We are of the opinion that we must make an appeal because the judgement isn't clear and safe enough," he said.
"He [Mbanenande] totally denies all the accusations and he has done from the first time that he was confronted with them."