Uganda's Muhoozi Kainerugaba denies 'monarchy' plan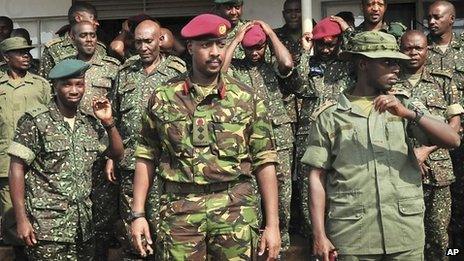 Ugandan President Yoweri Museveni's son has denied that Uganda is a "political monarchy" in which his father will hand the reins of power to him.
However, Brigadier Muhoozi Kainerugaba did not rule out harbouring presidential ambitions, saying Ugandans would choose the next leader.
These are his first comments since a row broke out in May over claims that he is being groomed to succeed his father.
Elections are due in Uganda in 2016.
Renegade General David Sejusa fled to the UK after alleging that Mr Museveni planned to hand power to Brig Kainerugaba.
In May, police raided the offices of two local newspapers, Daily Monitor and Red Pepper, which published a letter Gen Sejusa wrote to army bosses, warning that people who opposed the "Muhoozi project" risk being killed.
Gen Sejusa last week told the BBC that Uganda was being turned into a "political monarchy" - a charge denied by Brig Kainerugaba.
"Uganda is not a monarchy where leadership is passed on from father to son," he said, in a statement issued by army special forces spokesman Edison Kwesiga.
"This so-called [Muhoozi] project is a people's creation."
Mr Kwesiga said Brig Kainerugaba, 39, had not declared his ambitions and the statement had been issued to "clarify claims by a section of the opposition that there are plans to make him take over".
"The power to choose how Uganda is governed lies with Ugandans and not a single individual," the statement quoted Brig Kainerugaba as saying.
Brig Kainerugaba has risen rapidly within the military, fuelling speculation that he is preparing to become the next president.
He was appointed head of the special forces unit in 2008 and was given control of the elite presidential guard in 2010.
Gen Sejusa told BBC Focus on Africa that Brig Kainerugaba represented a "national project of Mr Museveni to subvert the existing political system in order to perpetuate himself".
"The central issue is a political monarchy - a life presidency and then transiting [to] a political monarchy," he added.
Mr Museveni has been in power since 1986, and has not indicated what his plans are for the 2016 election.
Related Internet Links
The BBC is not responsible for the content of external sites.