UN gives go-ahead to deployment of Mali peacekeepers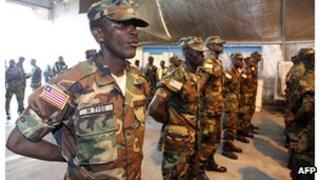 The United Nations Security Council has agreed that a UN peacekeeping force of 12,600 troops should be deployed in Mali from 1 July.
Britain's ambassador to the UN said there was "unanimous agreement" for UN peacekeepers to take over from the African-led operation imminently.
The UN will stick to a schedule drawn up in April.
International forces intervened in February to stop an Islamist advance on the capital, Bamako.
The new UN force, known as Minusma, will face security and political obstacles and will be deployed in extreme summer heat.
The force will aim to provide security for a presidential election due on 28 July.
Some clashes are continuing between Islamists groups and Tuarag rebels, according to the UN envoy to Mali, Albert Koenders.
He added that there would be "major challenges" to holding the election as scheduled.
France, key to the current deployment, will maintain at least 1,000 troops in the country for anti-terrorism operations.
British UN ambassador Mark Lyall Grant said the new peacekeeping contingent would initially comprise the vast majority of troops from the African mission already there.
They now have four months to meet UN human rights and equipment standards.
UN peacekeeping chief Herve Ladsous said Chad would be closely monitored because it is on a blacklist for using child soldiers.
"The United Nations is making every effort to screen the Chadian contingent... and ensure that no troops under 18 are among them," Mr Ladsous added.