Botswana auctions diamonds at home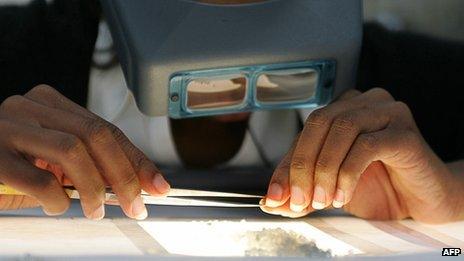 Botswana, the world's largest diamond producer, has started to auction its own diamonds for the first time instead of selling them in Europe.
The auction is by the government-owned Okavango Diamond Company.
Later in the year, diamond giant De Beers, which owns the country's main mining firm with the government, will also move its sales to Gaborone.
Botswana has long campaigned for its diamonds to be processed, sorted, marketed and sold from the country.
Last year, De Beers moved its rough stone sorting operation, which had been based in London for nearly 80 years, to Botswana.
The BBC's Rob Young in the capital, Gaborone, says about a dozen diamond buyers from around the world are in the city for the auction, which lasts for two weeks as they inspect the diamonds first and then bid for them in several rounds.
The government hopes diamond sales operations will bring more value-added jobs to the diamond sector, including clerical and jewellery-making work, our reporter says.
Its long-term plan is to set up a diamond hub similar to Antwerp and Tel Aviv that will continue once the diamond mines close, he says.
When De Beers relocates its sales operation later in the year, it will be selling about $6bn (£4bn) worth of diamonds a year in Gaborone.
Philippe Mellier, chief executive of De Beers, told the BBC that moving diamond sales was part of a deal agreed with the government of Botswana. Together they own Debswana, the country's main mining company.
It would turn Botswana into a major diamond hub, as it was already the biggest centre for diamond production, Mr Mellier said.
"It's a global movement of big scale for the diamond business," he told the BBC's Newsday programme.
"If you migrate $500m-$600m per month of sales of diamonds - that's a big move and at the scale of Botswana that's a very big move and certainly a move of significant scale for southern Africa."
Related Internet Links
The BBC is not responsible for the content of external sites.