Libya: armed groups clash in the capital, Tripoli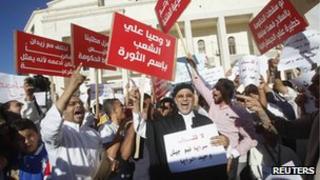 Fighting is reported to have broken out in parts of the Libyan capital, Tripoli.
Residents of the Abu Slim district have told the BBC there are clashes involving small arms and heavy weapons.
They say the violence has led to the closure of roads, including part of the main route to the airport.
The reason for the clashes is not yet clear. "We don't know where the gunfire is coming from," one resident, Faisal, said. "It's so random."
One source from the Libyan chief of staff headquarters says gunmen from the western city of Zintan have tried to free five of their comrades who were seized by former rebels.
Libya remains anarchic, in parts, nearly two years after a Western-backed uprising toppled the dictator, Muammar Gaddafi.
Government forces are still struggling to assert their authority and are regularly challenged by regional militias who want to keep hold of influence they gained during the revolution.
The eastern city of Benghazi remains a no-go area for foreigners, after a series of attacks on Western diplomats.