South Africa's FW de Klerk in hospital for pacemaker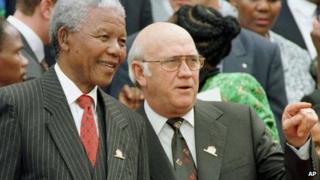 South Africa's former President FW de Klerk is being fitted with a pacemaker after suffering from dizzy spells, his foundation has said.
The last apartheid-era leader will spend Tuesday night in hospital after the cardiac procedure.
Mr De Klerk, 77, cut short a visit to Europe over the weekend because of concerns for Nelson Mandela's health.
South Africa's first black president remains in a critical but stable condition in hospital.
The two men were jointly awarded the Nobel Peace Prize in 1993 for ending apartheid and bringing democracy to South Africa.
Mr De Klerk became president in 1989 and started to dismantle the apartheid regime and held negotiations with the African National Congress (ANC).
Mr Mandela was released in 1990 after spending 27 years in jail in opposition to white minority rule and was elected president in historic elections in 1994.
Meanwhile, a legal row about the exhumation of three of the former president's children is being debated in open court in Mthatha in the Eastern Cape province.
Several family members of the Mandela family have taken his eldest grandson, Mandla, to court in a bid to exhume the bodies, so they can be reburied in the family graveyard in Qunu, where Mr Mandela wants to be laid to rest.
Prayers
When Mr De Klerk arrived back in Cape Town on Sunday he began to feel dizzy and sought medical attention the next day, his foundation said.
"He has had several such spells in recent weeks and his specialist recommended the immediate installation of a pacemaker," the statement said.
Earlier he and his wife had said their thoughts were "with the Mandela family during this difficult time and they join in their prayers for an improvement in Mr Mandela's health".
Messages of support for the 94-year-old Mr Mandela, known affectionately by his clan name Madiba, continue to be left on the walls and fences outside the hospital in Pretoria, where President Jacob Zuma said he was "critical but stable" after being admitted on 8 June with a recurring lung infection.
At the ANC's headquarters in Johannesburg, a prayer service is expected to held for Mr Mandela on Tuesday.
"The prayer service forms part of the ANC's nationwide prayer congregations, where members of the public are invited to offer prayers in support of Madiba, his family and the medical team attending to him as he enters his fourth week in hospital," the ANC said in a statement.
On Monday, Mr Zuma urged people to begin planning for Mr Mandela's 95th birthday by doing "something good for humanity" on 18 July.
Mr Mandela has a long history of lung problems, and was diagnosed with tuberculosis in the 1980s while he was a prisoner on Robben Island.
After his release, Mr Mandela said that the tuberculosis was probably caused by dampness in his prison cell.