Nelson Mandela: Beyond the rumours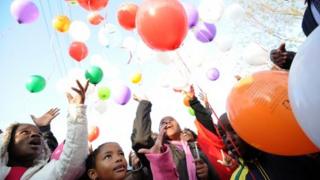 Instinct tells you to look away. A family in meltdown is a grim sight, and the very public spectacle of South Africa's "first family" turning on itself in recent days has left many people here shaking their heads in dismay. We all knew there were tensions. But that it should come to this…
The battle over the graves. The power struggle between daughter and grandson over who should "lead" the family. The talk of marital infidelity. The earlier court case about Nelson Mandela's money. And now the claims - contained in a legal document drawn up some time ago and evidently designed to nudge a judge towards making a quick decision about exhuming Mr Mandela's dead children - that the 94-year-old is in "a permanent vegetative state" with doctors advising that his life support system "should be switched off."
It's grim stuff. And it prompts the (admittedly self-serving) question - why blame the "racist… vultures" of the foreign media when your own knuckles are red and raw?
But as South Africa struggles - like drivers passing a car crash - to focus on the road ahead, it is worth pointing out a few things:
Firstly that for all the power-battles inside the Mandela family, Nelson Mandela's wife, Graca Machel, remains a figure of extraordinary poise, dignity and authority. Her performance yesterday was a timely reminder of that.
Secondly, that despite the silences, omissions, and reluctance to produce any medical experts, the South African presidency remains - with its terse updates - a relatively accurate guide to Mr Mandela's general condition.
And lastly - that in a whirl of online speculation and rumours - nothing beats an eyewitness. As evidence of that, I humbly submit the words of Denis Goldberg, a profoundly honourable man sentenced to life in prison alongside his friend Nelson Mandela, who was invited to his hospital bed on Monday and spoke to me on Thursday:
"He wasn't speaking. He has a tube down into his lungs so he can't speak. But he's moving his mouth as though he's trying to speak. I'm quite satisfied that he was responsive to what I was saying and aware of what I was saying. That was Monday. I'm disturbed that people are now saying he's in a vegetative state and he clearly wasn't when I saw him… it really moved me to see him. He's clearly a very ill man but he was in far better shape than I'd have imagined form all the reports and speculation that goes on.
"And I find all the uninformed speculation quite difficult to bear. All the 'logic-chopping' about what does it mean to be critical but stable. It's clear to me. It's logical. He's not getting worse and he's holding on… I think that's remarkable. What a tough old man he is. There's been speculation about switching off whatever machines he's been on, so I asked [Mr Mandela's wife, Graca Machel) about this and Graca said: 'Well the doctors say there's been no massive organ failure so they're not advising even to think about it at this stage.' They think he has a very good chance of recovery. I hope. I hope."