Mandla Mandela rejects bid to sack him as chief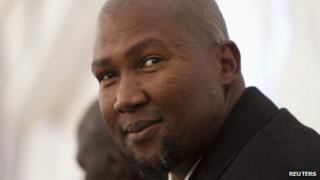 Nelson Mandela's grandson Mandla has said he will resist moves to expel him as chief of the anti-apartheid icon's clan.
King Buleyekhaya Dalindyebo said on Saturday that he planned to "eject" Mandla as a traditional chief.
Last week, Mandla lost a court case brought by rival family members over the burial site of Mr Mandela, 94, and three of his children.
Mr Mandela, South Africa's first black president, is critically ill.
He has been in hospital for the last four weeks with a recurrent lung condition.
The family has been involved in a long-running battle for control of his legacy, but it escalated as his health deteriorated.
Mr Mandela is revered across the world for his role in the fight against white minority rule in South Africa.
He was jailed for 27 years, before being freed in 1990 and elected president in 1994.
'Delusional' king
Mandla, 39, is the chief of the Traditional Council in Mvezo, where his grandfather was born.
He was appointed to the post in 2007 with the backing of Mr Mandela, who saw him as his traditional heir.
King Dalindyebo is the traditional ruler of the Thembu people, of which Mr Mandela's clan is a part.
On Saturday, he told a crowd at his Bumbane Great Place near Qunu that Mandla had no right to be a chief.
Instead, the post should be held by his half-brother, Ndaba, he added.
Mandla, through his spokesman Freddy Pilusa, dismissed the king as "unstable" and prone to making "delusional announcements".
"It takes a long customary process to appoint a chief and it takes a long customary process to remove a chief," Mr Pilusa added.
"You don't just wake up one day and call a meeting of followers and make such a decision," he said.
The king accused Mandla of behaving like a "witch" by moving the graves of three of Mr Mandela's children from Qunu to Mvezo without consulting his relatives.
"I don't even want to give him dignity to say he will be removed, he will be ejected," the monarch said.
"People who dig up graves in the middle of the night are witches. We can't talk to witches."
The three children were reburied in the Mandela family graveyard in Qunu on Thursday, after their remains were exhumed from Mvezo.
Sixteen members of Mr Mandela's family - including his eldest daughter Makaziwe and wife Graca Machel - obtained a court order for the reburials, alleging that Mandla had unlawfully moved the bodies to Mvezo in 2011 to ensure that his grandfather would be buried there, against his wishes.
They maintain that Mr Mandela wants to buried next to his children in Qunu, where he spent most of his time after stepping down as president in 1999.
On Friday, Archbishop Desmond Tutu who, like Mr Mandela, won the Nobel Peace Prize for his role in the struggle against white minority rule, appealed to the family to overcome their differences and not to besmirch his name.
Andrew Harding: Beyond the Mandela rumours