Somali car explodes in Mogadishu's Bakara market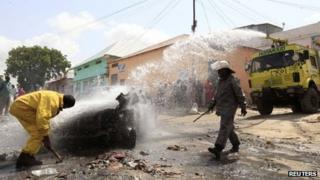 A car has exploded inside the main market in the Somali capital after a hand grenade was thrown into the vehicle, police have told the BBC.
It was carrying police officials, four of whom were wounded, he said.
It happened during one of the busiest shopping days, on the eve of the Muslim holy month of Ramadan.
No group has said it carried out the blast but al-Qaeda-linked al-Shabab has staged many attacks in Mogadishu since being driven out of the city in 2011.
The police official said the four-wheel drive vehicle caught fire after the grenade detonated at about 10:30 local time (07:30 GMT) and later blew up.
The BBC's Mohamed Mwalimu in Mogadishu says officers from a nearby police station rushed to the scene, shooting in the air to disperse the crowd.
The market was partially closed for several hours.
Business has been booming in Bakara market over the last two years - and whilst insecurity is still an issue, there have not been many attacks there recently, our reporter says.
The city is extremely busy with shoppers preparing for the Muslim fasting month, he says.
But the government has warned the public that the Islamist militants tend to be more active during Ramadan, he says.
Al-Shabab is fighting to create an Islamic state in Somalia - and despite being pushed out of key cities in the past two years still remains in control of smaller towns and large swathes of the countryside.
Some 18,000 African Union troops are in Somalia supporting the government of President Hassan Sheikh Mohamud, who was elected by MPs last September.
His administration is the first one in more than two decades to be recognised by the US and the International Monetary Fund (IMF).