Sudan's ex-spy chief Salah Gosh freed over 'coup plot'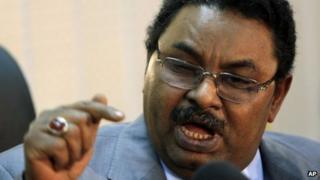 Sudan's ex-intelligence chief Salah Gosh, charged with plotting a coup, has been freed.
He was given an amnesty by President Omar al-Bashir, his lawyer Nabeel Adeeb told the AFP news agency.
Mr Gosh, who maintained his innocence, was freed on the first day of the Muslim holy month of Ramadan.
Other soldiers and intelligence officers accused of being part of the coup plot had been pardoned earlier by Mr Bashir, who has ruled for 24 years.
Mr Gosh was greeted with jubilation when he reached his home in the capital, Khartoum, and a sheep was slaughtered to celebrate.
He told Reuters news agency that prosecutors dropped the charges against him because of a lack of evidence.
"Some people also helped by mediating for me," he is quoted as saying.
Mr Gosh was arrested last year on a charge of plotting to oust Mr Bashir.
He headed Sudan's national intelligence service for about a decade until 2009, before being appointed presidential security adviser.
He was dismissed from that post in 2011.
During his tenure, Mr Gosh boosted co-operation with the US Central Intelligence Agency (CIA).
His arrest reflected a power-struggle within the Islamist-led Sudanese government, correspondents say.
Mr Bashir seized power in a coup in 1989.