Why a white South African risked traditional circumcision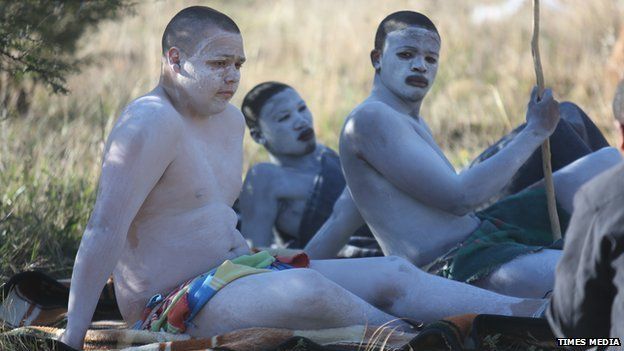 A white South African teenager has undergone a traditional circumcision, even though dozens of boys die each year in such ceremonies, which are seen as a rite of passage into manhood in some communities. He told the BBC's Pumza Fihlani it had changed him for the better.
Seventeen-year-old Brandon de Wet, from South Africa's Eastern Cape province, went through with the ritual, which is not without its risks, with his Xhosa friend of 13 years, Yanelisa Somyo.
"It was a really tough road and was like nothing I've ever experienced," Brandon told the BBC about the three-week long experience in the mountains.
"It was challenging mentally but it was worth it," he said proudly.
The practice of ritual circumcision is common among ethnic Xhosas and Ndebeles - two of South Africa's most numerous communities.
"Yanelisa and I have been friends since we started school as young boys. Sharing this with him has strengthened our friendship even more," says Brandon.
"I also have a better understanding of his culture."
The two go to a mainly white private school in the city of East London.
They were joined by Yanelisa's cousin Mbuzeli Somyo.
When young Xhosa boys are aged between 15 and 17, their families prepare to take them to an initiation school - where they will be under the care of an "ingcibi", a traditional surgeon, and an "ikhankatha", a traditional nurse.
This ritual is usually performed over the June school holidays or in December.
Deep in the mountains, they are taught the virtues of manhood and how to become upstanding men in their communities, among other things.
But it is a practice steeped in secrecy, so Brandon is careful not to give any intimate details of what he and his friend went through.
True to tradition he simply says that it was a "difficult time".
He recalls how accommodating his ingcibi was throughout his time there - but said he did not receive any special treatment.
"I can understand a bit of Xhosa but my surgeon would explain the details of what was going to happen and why it was important in English," says Brandon.
Although most aspects of the ceremony are secret, some aspects are known.
After the circumcision operation, the boys enter a specially built hut called an iboma, where they live together throughout the initiation period.
Their families prepare food for them and send young girls to deliver it.
The incibi will give instructions on what food should be prepared for the initiates. He treats the boys' wounds with herbal mixtures and is expected to monitor the healing process to make sure that there are no infections.
During this time the boys are clothed only in loincloths and covered in blankets, while white mud is smeared all over their body.
At the end of the initiation period they all bath at a river and wash off the mud - a symbol of leaving their "old selves" behind.
They burn the iboma where they had been living, another sign of leaving the old behind and beginning a new life.
The initiates then paint their bodies with red mud - this is how everyone at the homecoming knows that they have finished the entire course.
They are also given new blankets, which only those who have completed the ritual are allowed to wear.
In recent years many have begun to question the role of traditional circumcision in a modern society, especially with dozens of boys dying at bogus initiation schools every year.
All traditional surgeons should be registered with the authorities - in the past, they were well-known members of the community but recently untrained people have seen setting up initiation schools as a way to make money, locals say.
In the current initiation season alone, more than 70 boys across the country have died from dehydration, gangrene and septic wounds and others from multiple assault after weeks of maltreatment at the hands of their supposed carers.
Knowing all this, it was an especially difficult decision for Brandon's parents to go along with.
"I sat him down and tried to persuade him to change his mind. But I could tell that his mind was made up," his mother Charlene de Wet told me.
"The only thing that gave me comfort was knowing that the Somyo family would take good care of him and they did," she said.
"I remember the day he left, the goodbye was so abrupt. They just whisked him away. I felt both sad and anxious."
Traditionally, women are not allowed to come into contact with the boys during their initiation period.
They are not allowed to ask questions about what happens in the mountains - a sign of the patriarchy that exists in rural South Africa.
About 20,000 boys in Eastern Cape go to initiation schools during each season, according to the province's health department.
But those who swear by the practice say that when done in the correct way, it poses no threat to the lives of the young men.
"This is an ancient practice that has an important role in grooming our sons. I underwent it as a young man, it helped to shape me into the man I am today," Mlibo Qoboshiyane, Eastern Cape's local government and traditional affairs minister, told the BBC.
However, families need to play a more active role in the process, he says, firstly by ensuring that they choose a reputable "ingcibi" and "ikhankatha" and secondly by visiting their boys regularly to make sure that they are being treated well.
Brandon's father, Dave de Wet, agrees.
As a man, he was allowed to visit his son.
"I checked on my boy every other day. This helped me to be comfortable with what was happening," he said.
On the day of their homecoming to Gqumashe village, there was a huge feast and euphoric celebration; the boys, now considered men, were received like kings. There was singing, ululating and dancing.
"The outpouring of love from the community was just overwhelming," Mr de Wet told the BBC.
"It was a really proud moment for us."
Some villagers were surprised to see a white boy with the other initiates initially but Brandon says they made him feel like part of that community.
But not all initiates return to such festivities. During the June holiday season, 300 boys were admitted into hospitals across the province, 10 of whom had their penises amputated because of their wounds.
And five men have been arrested in connection with the deaths of 30 boys.
Mr de Wet tells me that this experience was a learning curve not just for Brandon but for his entire family.
All three boys are back home in East London, and normal life has resumed.
But Brandon's parent say they have noticed a change in their son.
"He seems a lot more placid, a lot more mature. This experience has definitely changed him," his mother says.
His father says it has been an "invaluable lesson for him".
"He was exposed to another way of life and now has a deeper appreciation of the luxuries that he would have otherwise taken for granted."
Related Internet Links
The BBC is not responsible for the content of external sites.