Mali body 'very likely' to be French hostage Verdon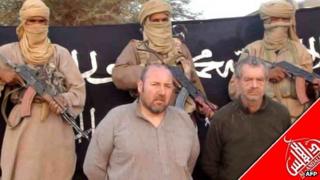 A body found in northern Mali is very likely that of a French national captured by Islamist militants in 2011, France's foreign ministry says.
Al-Qaeda's North Africa branch previously said it had killed geologist Philippe Verdon in retaliation for France's intervention in Mali.
Mr Verdon and another Frenchman were seized in the northern town of Hombori.
Earlier on Sunday, French President Francois Hollande said Mr Verdon appeared to have been killed.
"We have the worst of news on Philippe Verdon," Hollande said in a television interview. "Everything indicates that he died several weeks ago."
'Very strong possibility'
Tests are currently being carried out on a body found in early July.
But the foreign ministry said it appeared to be that of Mr Verdon, who was said to be on a business trip when he was kidnapped in November 2011.
"There is a very strong possibility that a body recently found in northern Mali is unfortunately that of our compatriot Philippe Verdon," the foreign ministry said in a statement.
Al-Qaeda in the Islamic Maghreb (AQIM) has claimed to be behind the killing.
Mr Verdon's family is yet to comment.
France sent troops to Mali in January saying al-Qaeda-linked militants could overrun the capital, Bamako.
Besides Mr Verdon, another six French nationals are being held by Islamist groups in the country.
In his interview, Mr Hollande said he was doing everything possible to bring the remaining hostages back.